Friends broken knee walker research
Friends broken knee walker research
Hi there,
I had a friend approach me for a bit of help since I just started studying engineering (1st Year). But I'm a bit overwhelmed where to start and any guidance would be much appreciated. They would like to look into it as much as possible before incurring or wasting lawyer fee's etc.
They hired one of those knee walkers after ankle surgery, but the seat broke off after a few weeks while in use, falling over and re-fracturing the same ankle. it was a Drive 790 Knee Walker rated to 130kg - they weigh 90kg. the break was at the exact point where the seat cross-member is welded onto the vertical pole along with a thin bracket. They are wanting to look into whether the knee walker was poorly designed since the seat is offset on the pole in the L-R direction and has been superseded by another model (796) which does not have this same seat offset.
some pics are below.
https://res.cloudinary.com/engineering-com/image/upload/v1639452176/tips/20211214_111954_BRN3C2AF4F5A657_010917_ile7kd.pdf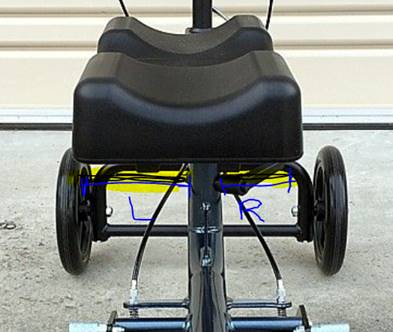 Is there anywhere I can look to find design standards for medical equipment, or how would I go ahead working out whether the seat was fit for purpose enough to help them decide if it's worth incurring legal fees or just chalking it up to an unfortunate accident
many thanks