Linear Bearing Selection For High Load Fatigue Testing
Linear Bearing Selection For High Load Fatigue Testing
Hi,
I am designing a bi-axial fatigue testing jig to test a range of towing components.
The jig must use 2 hydraulic arms (shown in the image below) to perform the bi-axial test.
The fatigue test oscillates in a sinusoidal manner in both axis simultaneously (vertically and longitudinally).
The read blocks in the image below shows the linear bearings allowing translation in the longitudinal and horizontal directions.
The peak loading of this testing reaches a max of +/-72 Kn (in both directions), and oscillates at approx. 5-10Hz. The travel of the linear bearing I expect to be about 5-10mm. The fatigue test is 2000000 cycles.
I am new to linear bearings - I see NSK and the like offer linear ball and/or roller bearings (like in the image below). But my concern is that given the very small distance of oscillation the lubrication around the ball or roller will not be adequate as the individual balls themselves won't be rotating much.
Would it be better to design a custom linear bearing for this type of Jig? A sliding bearing (using self lubricating materials) with no rolling elements? Or would using a rolling element off the shelf linear bearing be good ok?
Diagram: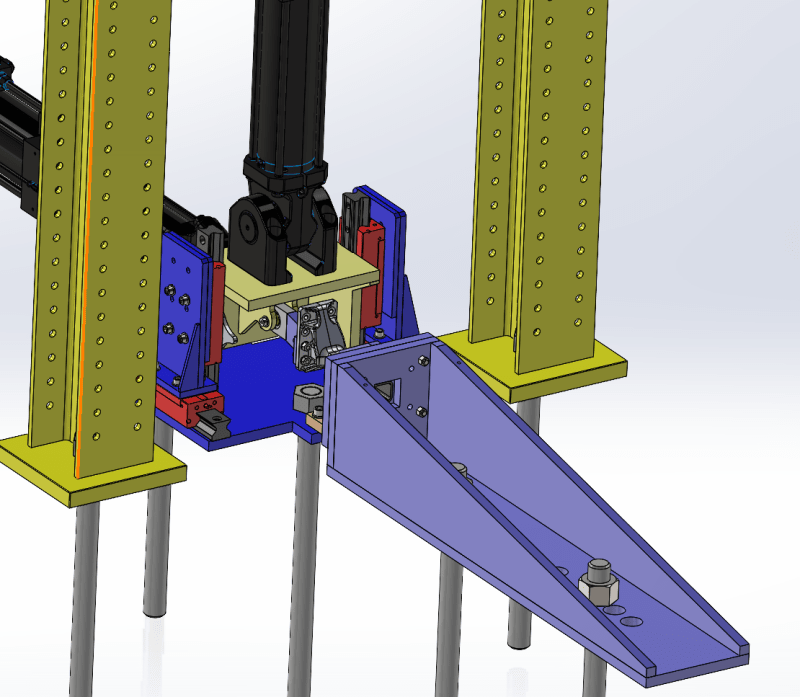 thanks!