Steel girder cracks
Steel girder cracks
Hi All,
Found a crack on the bottom flange of a steel girder while doing fatigue/NDT inspection. Not entirely sure of the cause of this crack. Any ideas?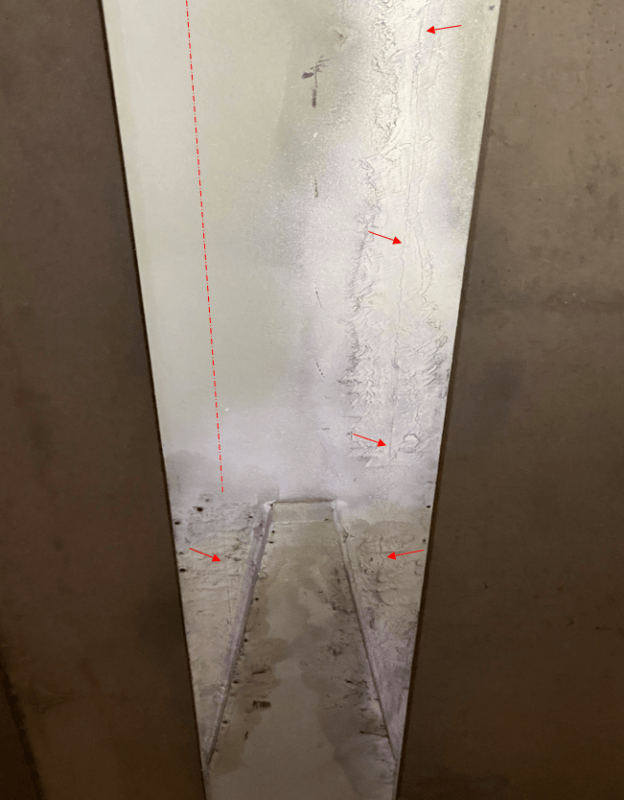 Additional Info:
- Bridge was built in 1960s. Girder is a 36WF160. Potentially fabrication defect? The fact there are two cracks almost symmetrical about the girder centerline seems too big of a coincidence.
- The cracks occur at the termination of the cover plate near the ends of the girder. Stress concentration area due to abrupt change in section properties. Given that the longitudinal crack is near the ends of a simply-supported span, I am not too worried as it is not a high moment area (and the crack is parallel to the load path). What was surprising to me was that I was expecting a transverse crack rather than a longitudinal one (
https://www.researchgate.net/figure/Crack-initiate...
).
- Cracks goes all the way from the cover plate weld (weld does not appear to be cracked) to the bearing.
- Original quality images here:
https://1drv.ms/f/s!As8lKkwt3K1Vgvs3SZITPSLQhz3Acg