How to calculate the CFM of Air blower required to get 2 m/s velocity from perforated holes in pipes
How to calculate the CFM of Air blower required to get 2 m/s velocity from perforated holes in pipes
Hi
All,

Please find attached a sketch of the arrangement. Please note: The units of attached sketch are in inch.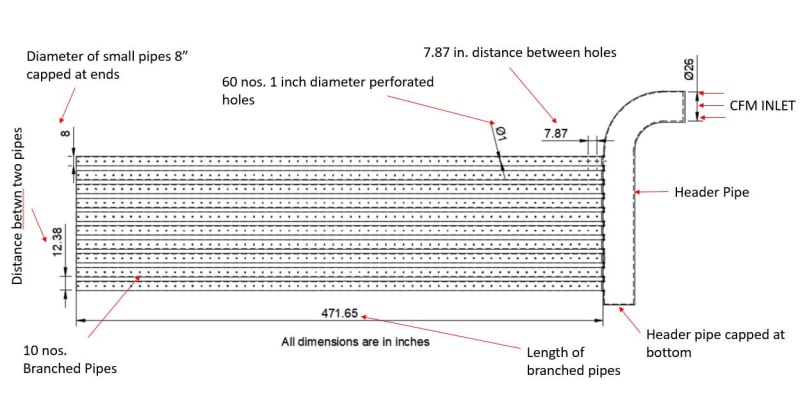 I have one header pipe of 26 inches where the input of air is to be provided. This header pipe is branched into 10 branched pipes. The branched pipes have 60 numbers of 1" inch holes equally spaced at 7.87" inch. I want to get the constant velocity of 4.474 miles per hour (metric: 2.0 m/s) flow out of each 60 no of holes. The velocity should be maintained upto 59 inch (1.5 m ) distance once it comes out of hole.

To get the desired velocity out of all the holes what is the amount of air (CFM) I need to provide at the inlet of the Header Pipe? Also how much back pressure will be generated due to the resistance of pipes?

What calculation do we need to consider to resize the pipes and get the out put near to 2m/s out of each perforated holes in branched pipes.

I would really appreciate any help provided on this.