Structural Software comparison spreadsheet, input welcome
Structural Software comparison spreadsheet, input welcome
I'm starting my own firm, I'm familiar in my career with RAM and RISA mostly and wanted to see what else was out there. I created a spreadsheet for my use to compare suites and wanted to share with anyone looking into this as well. I've favored the perpetual stand alone licenses, but have included the subscription models as well, mostly ordered by cost.
I'm leaning toward getting ETABS for many reasons after a month trial, still kind of on the fence as I'd love to have something that does a good job with timber as well, but it's a great value and I can probably 'fake' it to do timber. It's just so good with concrete and steel and I can add-on with 3rd party software and expand with SAFE for concrete floors, Detailer for autocad output, ideastatica for steel connections, and add-ons for irregularity checks and column design among others.
Many thanks to those who have contributed to discussions on this extensively before, every software has it's own pitfalls and it's helpful to know these. I know there are a lot of discussions out there on this, and I've read quite a few of them. I think it's the more the merrier for those out looking for a good value.
I'm welcoming your input especially in 3 areas
Helping to complete the info listed (limited / incomplete info)
I'd invite you to review software that you know in it's title link within the spreadsheet to 'alternativeto.com', this is where I've found some really good info on other types of software, and the structural software is left woefully unreviewed.
Discuss if you think of a better value than ETABS for perpetual single license for small/medium project (1-5 story commercial)
Here's the link and a screenshot, this is editable to anyone
https://docs.google.com/spreadsheets/d/1bM4KqEZNylKiGzjId4fp5i5VXSRIUzQm6Wb7VBSWYVA/edit?usp=sharing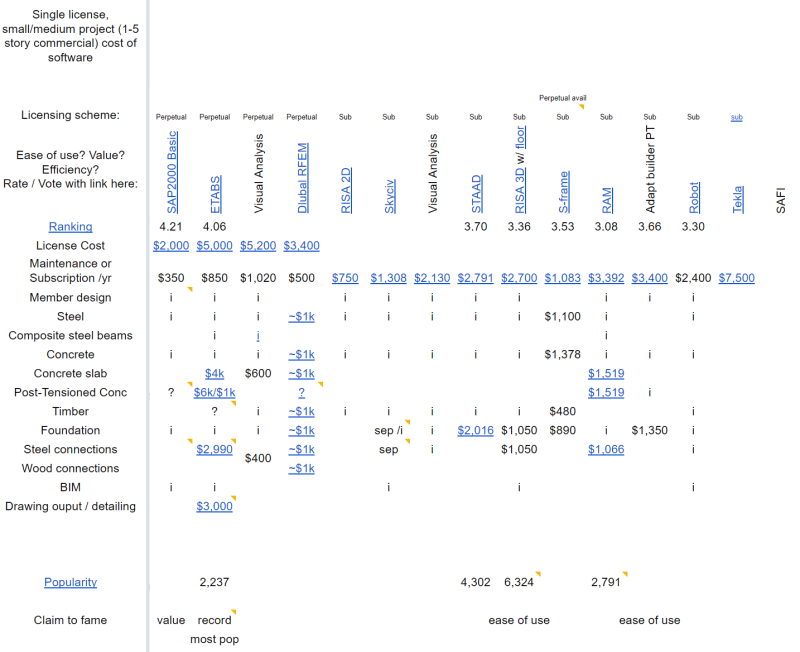 Edit: Updated screenshot, orig above kept for context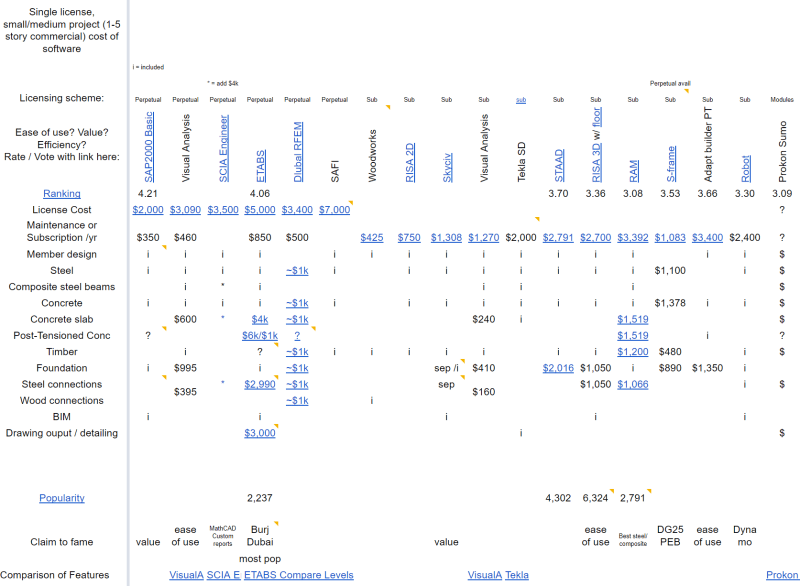 SAP2000 Basic Visual Analysis SCIA Engineer ETABS Dlubal RFEM SAFI Woodworks RISA 2D Skyciv Visual Analysis Tekla SD STAAD RISA 3D w/ floor RAM S-frame Adapt builder PT Robot Prokon Sumo