Isight doesnt change the outputs during the optimization
Isight doesnt change the outputs during the optimization
I am running a topology optimization of some pins which are used to reinforce a single lap joint.
In isight, I am using a very simple workflow that consists in an optimization module, followed by a script and then by an abaqus component.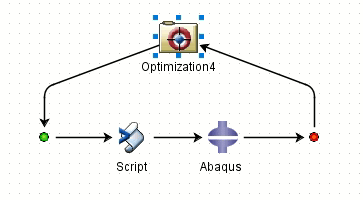 The script ensures that the pins built on one piece coincide with the geometry of the hole that is cretated in the other piece (i think this script works just fine).
The abaqus component performs the "lap shear test" of the joint and extracts data of force vs displacement (history outputs of each node in a determined area) of the test. Within abaqus in isight, I prepared a script which calculates from the "hystory outputs" of abaqus, the maximum force that the joint withstands, which is what i want to maximize with the optimization. (I think this part also works fine, because I have tried changing the pins by hand and running the script in abaqus, and i get the results that i should).
The problem when running Isight, is that the first loop of optimization runs well, and gives me the desired output of the maximum force. However, when the second, third, fourth, etc. loops are finished, Isight gives me exactly the same output for all of them, the same result of "maximum force".
What do you think I am doing wrong???
I thought maybe that the .odb file generated after each loop is for some reason not being read by isight during the optimization, but i dont know how to check if this is the issue...
Any suggestions would be very much appreciated :(