Soffit Repair in Continuous Drop Panel
Soffit Repair in Continuous Drop Panel
Wondering what everyone's thoughts are on soffit repair in drop panels? I was recently engaged to design shoring for a repair project, not mine, where there was a bunch of soffit repair in drop panel locations. And for some reason I feel a bit uneasy about the ultimate repair (not the shoring). I suppose my unease comes from the fact that generally when we repair structures we try to restrict our cold joints into low shear areas, which is the exact opposite of drop panel locations.
I guess I am wondering if doing a soffit repair in a continuous drop is doing more harm than good? I am unsure about the ability of the repair to integrate with the parent concrete such that shear capacity is restored across the depth for a couple reasons:
A)
propensity of the grout / concrete to shrink from parent concrete
B)
inability to install shear dowels or other means of engaging shear friction
C)
lack of bar generally at drop panel locations giving the repair even less to hang on to (this is a non seismic zone FYI)
D)
just feels wrong
Below is a typical soffit repair detail for those that are not familiar. Basically you chip to the neutral axis and pressure grout from the underside. If the top is accessible sometimes you can core + use SCC. Not a huge fan of them but sometimes they are the only thing you can do.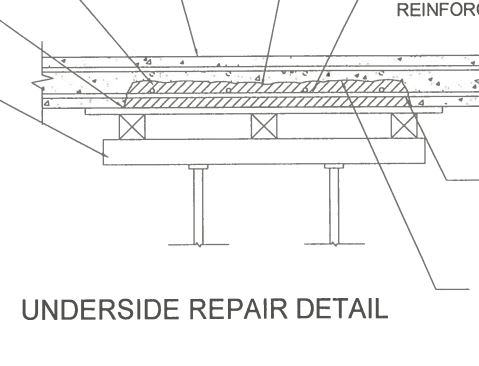 Am I being silly on this one?