Extracting bundle of floating head heat exchanger
Extracting bundle of floating head heat exchanger
Dear All,
we are facing the problem that we can't remove the bundle of our horizontal shell&tube heat exchanger. Weight of bundle is 9t. Design floating head (drawing attached).

Problem: hx has severe fouling and is leaking. Leaks are expected to be caused by uneven thermal expansion due to debris collected between the baffle plates and reducing heat transfer (pic), mechanical stress as we have non corrosive fluids (hydrocarbons).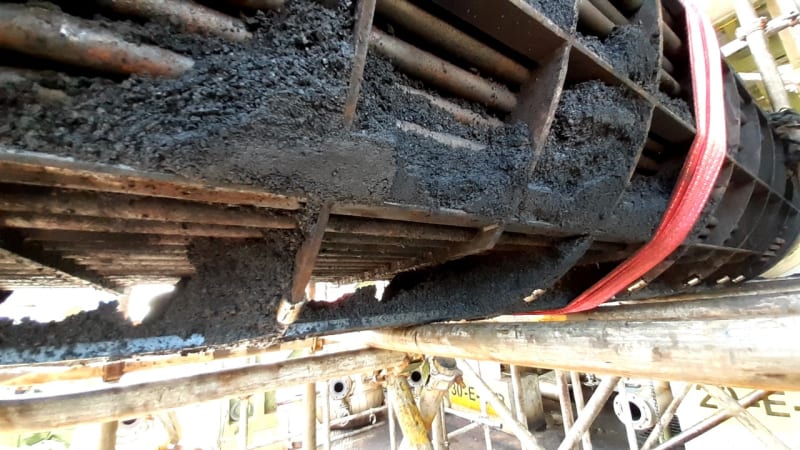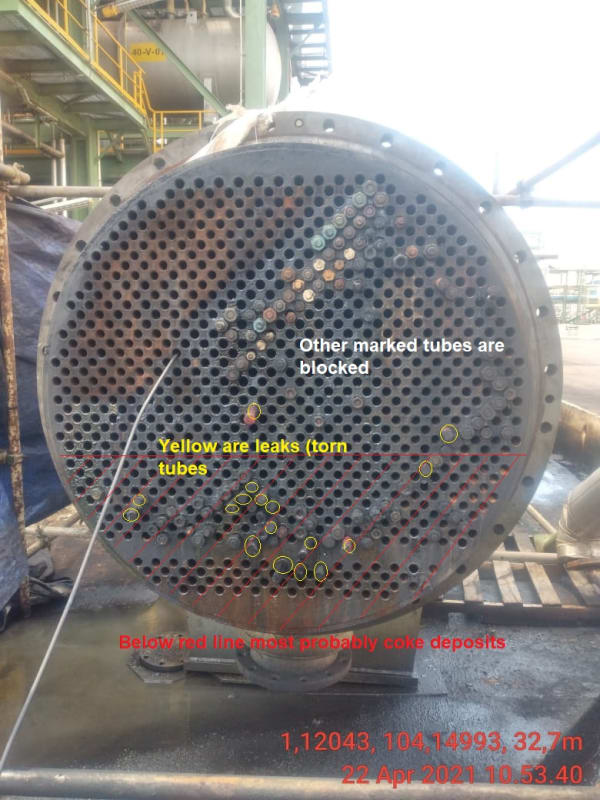 Assumed reason that bundle stuck in the shell:
Solids (coke) has has settled down at the botom of the shell between the baffle plates (high and tolerance of baffle plates to shell is to small. Bundle can't be moved at all.
We tried to pull with 16 t forklift, used hydraulic jack at floating end to push it and to break it loose - no success. There might be also a deformation of the shell due to uneven heat distribution since we expect a lot of residue (coke - pic is from different unit) has settled at the bottom so free tubes have a different thermal expansion than the covered tubes.Chemicals doesn't work as coke is quite inert to most common used chemicals
We will try once again with larger hydraulic jacks to break the bundle loose and then pull (see right side of marked drawing). If that fails we will need to cut the shell. Red marked cutting of a window is not suitable acc to the vendor as the shell will collapse once the section is welded back (heat impact and shrinking - many attempts failed with other clients). They agreed to follow the green marked strategy to cut the shell in 3 pieces. But even then rewelding will be a challenge. Please note that only the pic with tubesheet (leaks) is the particular unit. The other pics are from an other unit but we were able to extract the bundle. Any suggestion? Thanks in advance