Opinions- hydrostatic test data
Opinions- hydrostatic test data
Hi all, I'm looking for a second (or more) set of eyes on some pipeline test data. The pipe in question is approximately 600ft of 24", mostly exposed except for a 30' section.
Here is a chart of pipe temperature and pressure for the last hours of the test.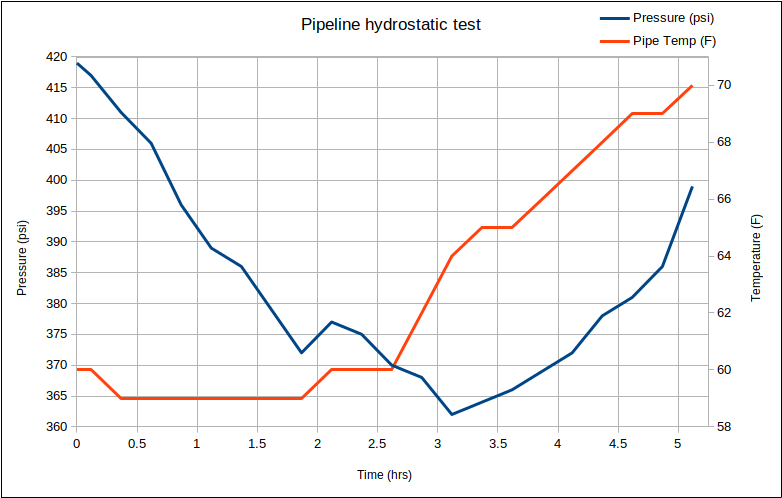 Some of my own observations:
Recorded pipe temperature reached a low of 59F at .4 hours, and rose back up to 60F near the 2 hour mark. I'm guessing the pipe reached an actual low around the 1.25 hour mark and temperature started climbing back up after that. Per my own understanding, it would be generous to say that the lowest pressure should have been 386F if everything was okay, and should have started climbing from there.
As pipe temperature climbs, pressure continues to drop until 3.2 hours on. The temperature is 64F at this time, and my calculated pressure is around 468 psi. Actual recorded pressure is 362 psi.
At the end of the test, pipe temperature has risen 10 degrees F, but the pressure has only now gotten back up to what it was at the time the temperature started going up.
Is anyone aware of a way that the data could look like this without it indicating a leak?