How a restriction affects air flow at constant blower speed
How a restriction affects air flow at constant blower speed
Hi,
I am working on a machine in which a blower running at a constant speed delivers air through an electric duct heater followed by an elbow and a length of straight duct into the top of a drying tunnel as illustrated below.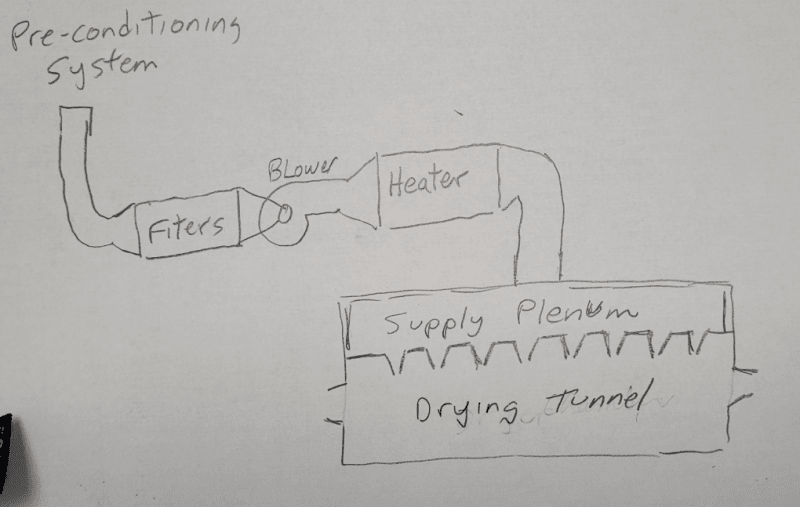 When the heated air reaches the drying tunnel, it is delivered into a supply plenum that has eight adjustable air nozzles that allow the heated air to enter the drying tunnel.
Air nozzle openings are 9 inches long and can be adjusted anywhere between 1/16" to 3/8" wide. For a fixed blower RPM (assuming constant temperature of the air), I would assume that more CFM would be supplied to the drying when the air nozzle openings are set wider (closer to 3/8") as opposed to when they are set narrower (closer to 1/16"). While this seems to make sense intuitively, I am not completely confident. If anyone here can let me know if my assumption is correct, I would greatly appreciate it.
While I do not show it in my illustration. I also have an exhaust blower that removes the heated air from the bottom of the dryer. The exhaust blower is also set to run at a constant speed that is chosen so that the exhaust blower removes slightly more air than the supply blower delivers, making the drying tunnel slightly negative relative to its surrounding area.
Thanks in advance,
Paul