Circuit Beaker - Switch Disconnector (Rated Current Selection Method)
Circuit Beaker - Switch Disconnector (Rated Current Selection Method)
Hello,
First sorry for my ignorance, but I really need help to understand an issue related to an electrical installation design that I have seen recently.
I have an installation with several electrical boards: the Main Distribution Board and Secondary Distribution Boards powered from the first one.
The output of the Main Distribution Board and which will supply the Secondary Distribution Board is made with a 3P 125A MCB (Q1) and through a 3x50+1x25mm2 cable. This cable between the the boards is protected against overloads and short-circuits by the mentioned circuit breaker.
At the arrival of the Secondary Distribution Board I have a 160A 4P Switch Disconnector (S1) and in this Board diagram the maximum load current of the busbar is also 160A.
Please see the below image for a better understandig: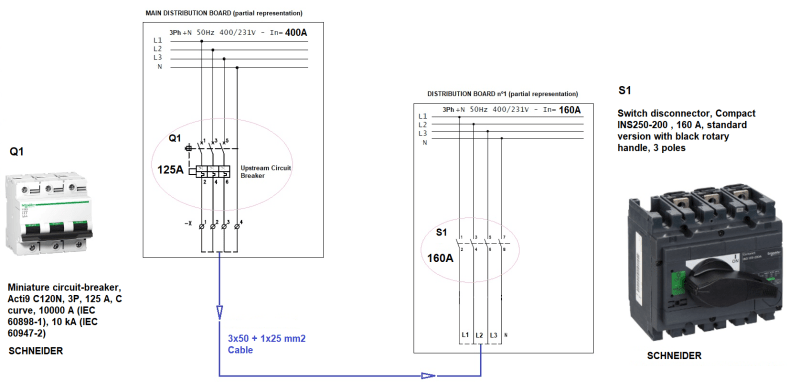 1) What is the criterion for choosing the Switch Disconnector (S1) rated current [In], since the Circuit Breaker (Q1) upstream rated current is 125A.
2) Are there circuit-breaker/switch-disconnector coordination tables to determine the current selectivity between these two type of devices?
3) The busbar rated current of the Secondary Distribution Board could be greater than the S1 rated current [In]?
4) From my poor understanding the Switch Disconnector is a control device that can be used to open and close a circuit under normal operating conditions. Thus, the Switch Disconnector can make and break its rated current. For an overload or a short-circuit, it must be protected by an upstream device In this particualr situation that protection must be assure by the Q1 Circuit Breaker installed in the Main Distribution Board. Am I Correct? If so, in this particular situaion the S1 is protected by the Q1?
Thank you in advanced,
Luis