Formula 1 Simplified Math Model Attached
Formula 1 Simplified Math Model Attached
I was cleaning up my engine folder after award of the last patent and found the very simple math model of a Formula One engine linked below. I built the model back in 2016 when first starting my engine design effort. At the time, I was especially interested in reconciling all the talk I saw about levers and how inefficient crankshafts are with the fact that simple crankshafts dominate internal combustion engine designs. The model served that purpose well by teaching me that cranks aren't all that inefficient insofar as the engine has good ring seal, doesn't suffer too much piston skirt friction, and uses affordable high load bearings (like common hydrodynamic journal bearings). It also taught me all the different ways of expressing engine work from pressure applied to a lever to simple change in pressure over change in volume yield the same answer (so there's no need to talk about levers and mechanical advantage). It's a simple model, but I learned something from it, and I suspect other folks just starting out may as well.
Link to model on my OneDrive:
https://1drv.ms/x/s!Asoi6UVD5DYagY38Ul3VlMfiwPtCOa...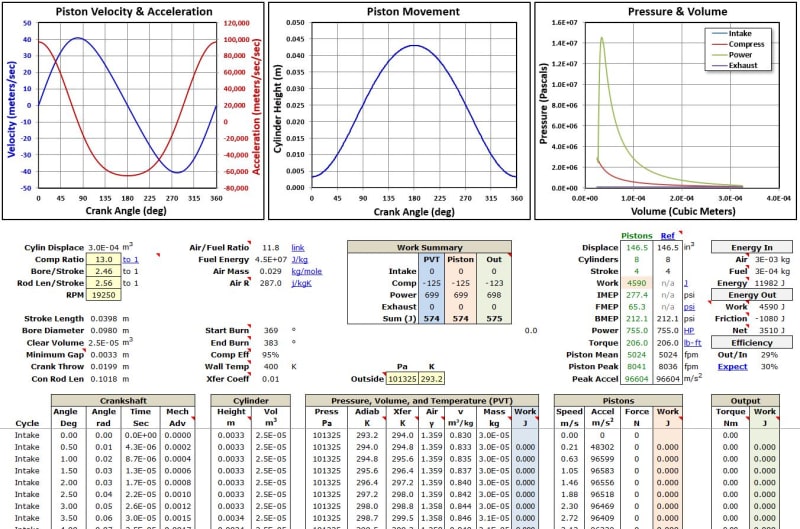 P.S. Note the file is an Excel workbook with a .xlsx extension which means it has no macros (if it did, it would have the .xlsm extension). Regardless, I recommend running virus scan on
all
files downloaded from the internet.