Accelerometer Noise
Accelerometer Noise
Hello my EE friends,
First, I'm sorry for the amateur question. Second, I'm hoping this is the correct forum, since double posting is a grievous sin.
I set up what I thought was plain vanilla instrumentation to measure and record structural vibrations.
Teensy 4.1 (with simple Arduino code) and an 3-axis ADXL 335 accelerometer (+/- 3.0g with 3.3V input) on an Adafruit board.
https://www.adafruit.com/product/163
I am getting a lot of apparent noise with my application.
So I attached my accelerometer to my bike crank and collected some plain vanilla data (i.e. about 2 Hz). Still getting way too much noise. That is, I see lots of jitters - many reversals in the acceleration that are unrealistic. I am also getting a couple of high spikes in acceleration that are unrealistic. See figure below (better resolution in attached Excel graph).
Could this be my code, or the accelerometer? I've got nothing fancy at all. Thanks in advance for any suggestions.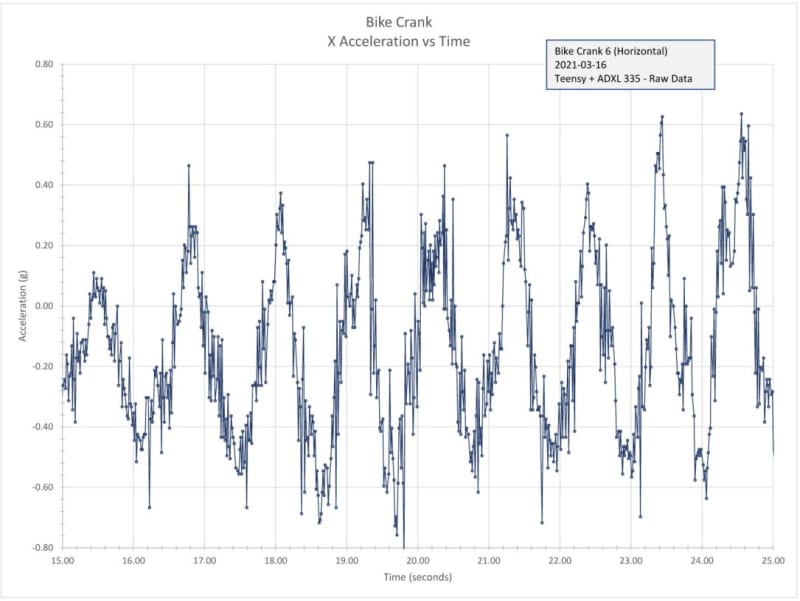 https://res.cloudinary.com/engineering-com/image/upload/v1615993342/tips/X_ACCDATA_BikeCrank_01-20210316b_tvaymu.pdf