Aluminum and steel cable joint
Aluminum and steel cable joint
Hi All, hoping you experts can advise on best course to maximize longevity of a public art piece.
Details:
I have a 1/8" thick x 14" diameter aluminum disc suspended between a concrete floor and metal post above, using 1/8" metal cable. The disc has a 3/8" hole at top and at bottom, to thread the cable through. The disc's entire surface including the holes is sealed by powder coated paint.
This is part of an outdoor public art piece in Texas with extreme humidity, rain, sun, all weather. Eventually, the powder coating will wear away where the cable rubs against it. When that happens, I'm concerned about corrosion at those points of contact.
An engineer told me under non-marine outdoor conditions, it would take decades for noticeable corrosion to happen between aluminum and stainless. But after researching online, I'm not so sure. An important point may be that most of the aluminum disc's surface will be covered with powder-coated paint.
Here's a photo of a typical use case for wire-rope rigging: the cable nestles inside a thimble. It is the thimble that would come into contact with my aluminum disc.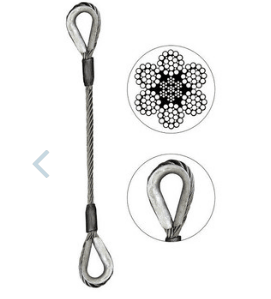 My goal is to protect the aluminum disc from as much corrosion as possible; it needs to last at least 10 years without looking discolored with rust. I'm far less concerned about the thimble and wire rope, which can be replaced once each year if needed.
I originally planned to use a stainless steel thimble with stainless steel uncoated wire rope. But, am now wondering if it's better to use an aluminum thimble. That way, the stainless steel would touch the "sacrificial" aluminum thimble which could be replaced once yearly. But I'm unclear on how quickly and to what extent the corrosion would move through the aluminum thimble and into the aluminum disc.
Here's a quick sketch of what I have in mind. PLEASE let me know of improved suggestions. I read elsewhere in this forum it might be smarter to use standard steel instead of stainless, to force the corrosion into the steel instead of the aluminum. I simply don't know enough about metals to make the judgement.
I'm also wondering if there's a suitable synthetic rope to use instead of steel, but it'd need to be tough enough so vandals couldn't cut it with a knife.