Spring Wire Material Properties
Spring Wire Material Properties
I've been designing a spring form for an over-center latch.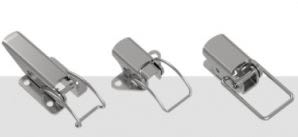 Because the spring form is an abnormal shape, I've been using ANSYS to calculate the stresses and stay below the material yield strength I've found online (<78% tensile yield as a design criteria).
The music wire I'm using is 2 mm A228. Does anyone know the
ultimate
tensile strength for this material? I'm seeing this over-center latch fail in fatigue (I think there is an alternating load I'm not accounting for that is creating this failure) and I'd like to run some high-cycle fatigue calculations, but estimating the ultimate strength throws this calculation off.
Anything helps.
Thanks!