Flat Pattern Problem, Orientation Problem, Viewing Problem. The day of Problems
Flat Pattern Problem, Orientation Problem, Viewing Problem. The day of Problems
I have a whole host of problems going on today, not sure what it is, but wondering if anyone can help out. Problems listed below. I'd love to share screenshots, but haven't been given permission by the customer yet.
Problem 1: My orientation dialogue box is no more. I hit space bar and the 3D model zooms out and show all the faces I can click on for view, but the Orientation box doesn't show up anywhere. I've tried switching monitors, changing main screen, restarting Solidworks, and restarting computer with no luck. The space bar is also still listed as my shortcut for the orientation box, yet it doesn't show up.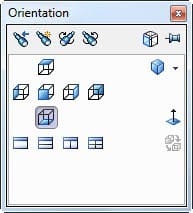 Problem 2: A customer gave us a part and I was able to flatten it within Solidworks. I then toss the part into an assembly file and want to compare it to an old 3D flat pattern I had available. However, when I flatten it within the assembly, it shows both the formed and flat pattern. I tried making a configuration in the part file and setting that as the flat pattern so I could select it in the assembly and still shows both form and flat together.
Problem 3: Since Problem 2 wasn't getting what I needed done, I tried to create a print instead. In my drawing views on the 2D print, all the views show up, but flat pattern is not an option. Normally, when I have a sheet metal part and create a print, I can select both form and flat views. Yet, in the SLDPRT file, it does show sheet metal and allow me to flatten it correctly.
Thanks in advance for the help!
Brandon LaSota
CAD Engineer
Modineer
www.Modineer.com