RV Solar Panel Mount - Aluminum Brackets, Galvanized Steel Fasteners?
RV Solar Panel Mount - Aluminum Brackets, Galvanized Steel Fasteners?
Greetings,
I hope this is an OK place to post this question. I'm looking for advice on how I've chosen to handle attaching (3) solar panels to the roof of my RV. I recognize this isn't a professional question, but I can't think of a smarter bunch of folks to ask this.
I have an RV. On the roof of that RV, I have two aluminum rails that run the length of the roof. This rail is attached to the RV via 'cleats' from the factory that rotate 90 degrees. Simple enough. However, the solar panels that I purchased are too perfect of a fit for the spacing of these rails, resulting in needing to use brackets to allow them to fit atop the rails properly. As well, I needed more clearance than the rails provided because of the curvature of the roof. I purchased the aluminum, cut the brackets, etc, and have it all installed. It turned out fine, I think, but I worry that I don't have the prerequisite knowledge of material chemistry to put my faith in this long-term.
I've attached a diagram showing what my original model was. It turned out exactly like what was pictured. The rails I purchased were a weird size, so I used 1/4" aluminum to create my own channel nuts. Everything is fastened with yellow zinc-plated 1/4-20 bolts, directly tapped into the aluminum. Each corner has this series of brackets, so 4 per panel, or 12 total.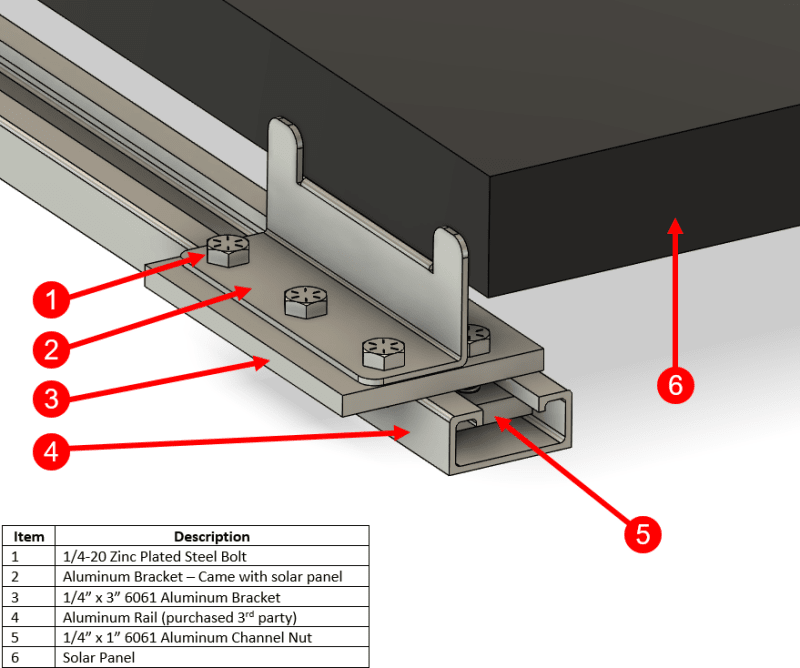 My questions are this:
- Should I be worried about relying on aluminum threads for these mounts? I had to do this without nuts because of how close the bolts are to the rail, which is determined by the width of the solar panel. The entire assembly feels extremely strong, but that's not exactly scientific.
- How concerned should I be about the zinc plated screws threading into the aluminum? When I did my first round of research, it seemed like the answer I got was 'don't worry about it'. Naturally, now that I've finished, I am indeed worried about it.
Thank you very much for reading, and I'd greatly appreciate feedback if possible.
Edited to add the following details that I left out:
- I live in Michigan, cold and wet in the winters and hot in the summers.
- Aluminum is all unprotected and raw.
- Blue loctite on all fastener locations.
- Ideally quite permanent, so hopefully not ever removing.