ACI 318-19 – Concrete Contribution to 1-Way Beam Shear – Table 22.5.5.1
ACI 318-19 – Concrete Contribution to 1-Way Beam Shear – Table 22.5.5.1
In the new ACI 318-19 manual, I am confused by the updated formulas for calculating the concrete portion of shear strength.
We are provided 2 criteria for concrete shear capacity based upon whether or not we have the minimum (A_v,min) amount of shear reinforcement present (see below).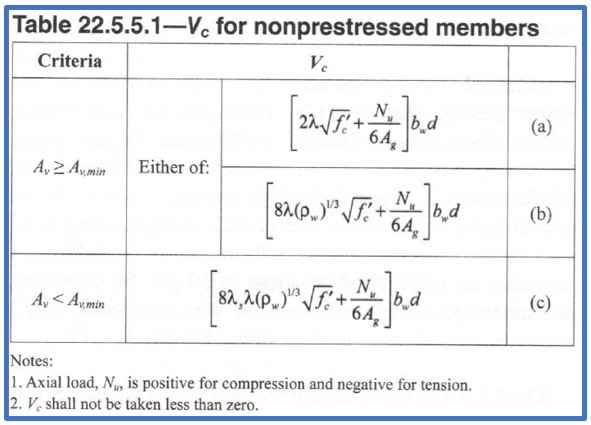 My question is…
If A_V,min, is the required minimum, then why would we ever have less?
Here is a scenario that might help confuse or clarify.
What if I had a beam where the Shear demand was less than 50% of the concrete shear capacity and therefore have no stirrups? (Vu <= 1φ*sqrt(f'c)*bd) (ACI 9.6.3.1)
In my mind, then A_v,min = zero. So, when I arrive at Table 22.5.5.1, which equation do I use??