Calibrating a hydraulic torque wrench for tension in threaded anchor rods
Calibrating a hydraulic torque wrench for tension in threaded anchor rods
I have a project with a 50 ton crusher where the anchor rods have fractured and they are being replaced. With the new anchor rods we are providing approx 18" of free length such that we can preload the rods and reduce fatigue effects.
We would usually install the new rods and stress axially using a calibrated center-hole hydraulic ram/rump apparatus to achieve the required magnitude of preload. Unfortunately for these specific anchor rods there are obstructions that do not permit the ram and stressing chair to have enough space, so we are contemplating using a hydraulic torque-wrench which requires less space above the nut.
We need to pre-calibrate the torque wrench for a given tension, similar to what is used for structural steel bolting i.e. Skidmore-Wilhelm (which we do not have and would not work in our situation).
Any opinions of the following setup: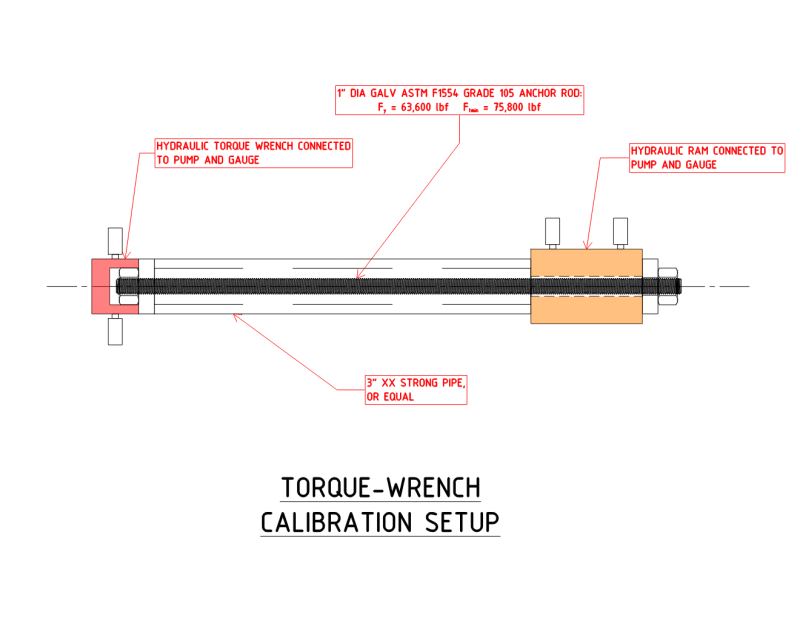 We would have to restrain the pipe assembly and the right-hand end of the anchor rod to prevent it from spinning.
We propose to stoke the ram by an inch or so, then apply a prescribed torque through the hyd wrench, stop the wrench and record the hyd ram gauge pressure (and hence tension), increment to another torque, stop and record the ram gauge pressure, and repeat until we are close/exceed to the preload level, and repeat three (3) times to verify repeatability.
We are not looking for Swiss-watch accuracy, so within 10% of our preload would suffice.
Any comments?