Preload Gap (Back-to-back Configuration)
Preload Gap (Back-to-back Configuration)
Hello,
I've been thinking about the possible meaning of this image: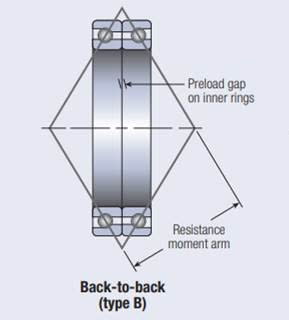 It says "Preload gap on inner rings" and since this could have different meanings I was hoping someone could help me clarify.
Does it mean:
- You need to leave a minimum gap between the bearings
(using a spacer placed in between the outer ring)
so that when the axial load is applied
(the minimum axial load necessary for proper funcioning)
both inner rings have enough space and don't touch each other.
- The inner ring is actually slighty thinner and already takes that into account so the outer rings can just directly touch each other and the inner rings won't collide when basic functioning load is applied.
-Something else I am not seeing.
Any imput can be good. If you know the exact answer it would help a great deal.