Explain pressures created by fluid flow through small orifices
Explain pressures created by fluid flow through small orifices
So my question is in relation to fluid flow and pressure. In my pictures below you can see that i have two similar situations. Fluid flows in from a large reservoir at a constant rate through a control orifice. It follows the red arrow and flows around a 90 degree angle into a tube. Up to this point both scenarios are relatively the same. We have a pressure tap in both scenarios that differ in size.
Scenario #1 has a small long orifice (0.052in in diameter) that feeds another 0.040in hole in the manifold and then a small volume were the pressure is measured.
Scenario #2 has larger diameter orifice (0.1495in in diameter) that feeds the 0.040in hole into a similar small volume where pressure is measured.
What i would like to understand is: why is the pressure in situation #1 (P1) higher than the pressure in the situation #2 (P2)?
Wouldn't opening up the holes increase the pressure in volume V1? I have literally tried this by drilling out the tap in scenario #1 to make scenario #2, but it drops the pressure. I have even found that making the orifice smaller increases the pressure. What am i missing here?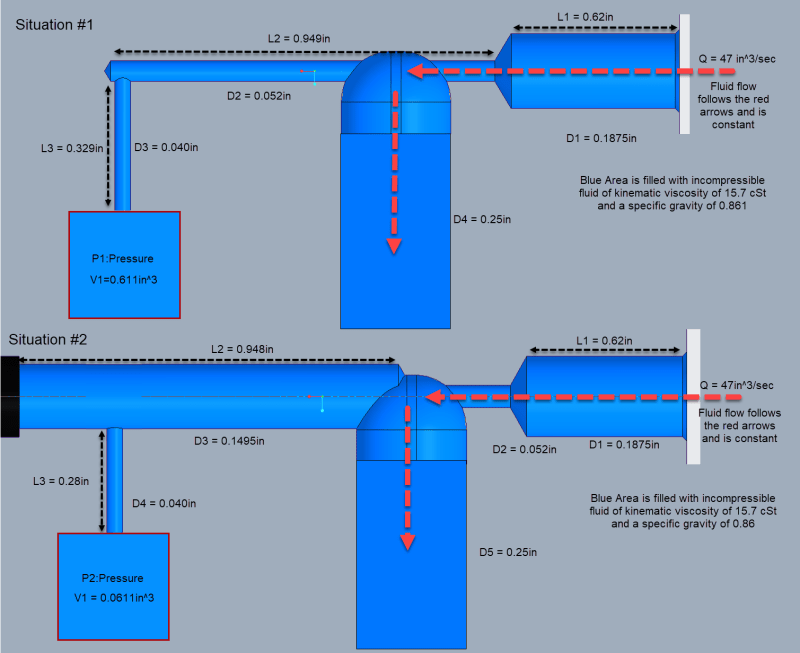 Situation #1 Small Orifice Pressure Tap Situation #1 Small Orifice Pressure Tap
Situation #2 Large Orifice Pressure Tap Situation #2 Large Orifice Pressure Tap