Structural integrity of a welded steel stand for two condenser units
Structural integrity of a welded steel stand for two condenser units
I've recently bought two mini split heat pumps and want to build a stand to hold the outdoor units. I would like to obtain an E-shaped cantilever structure but am unable to determine whether the beams will hold the units safely in place without adding some form of additional support (e.g. diagonal braces).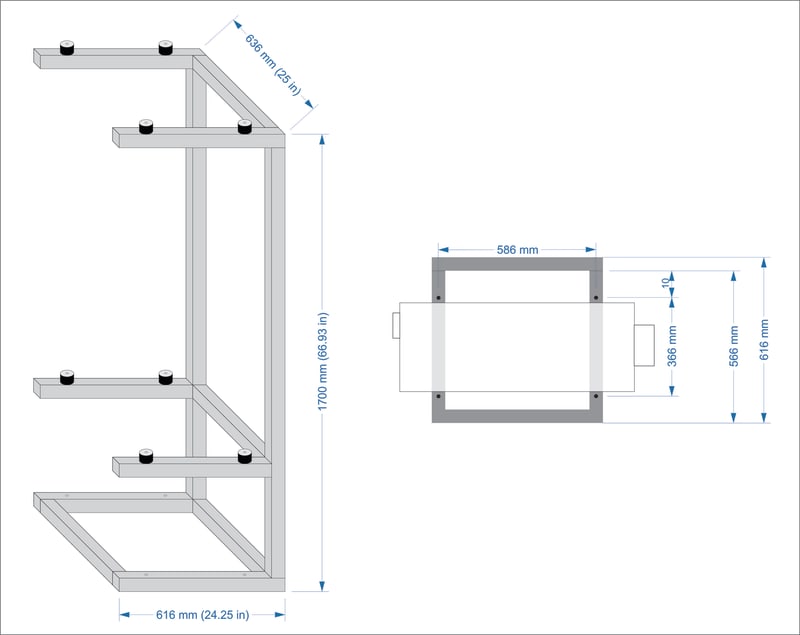 I plan to use 50mm x 50mm x 2mm (2" x 2" x 14ga) square steel tubes which are going to be welded together as shown in the drawing above. The small cylindrical shapes are
rubber-metal mounts
that will go underneath the condenser units to prevent vibrations from being transferred to the steel frame. I might also use some larger rubber-metal buffers to decouple the stand from the concrete foundation on which it will be mounted, so any unmitigated vibrations don't find their way into the nearby walls of the house.
The weight of the outdoor units is 43kg (95lb) each, and the way this weight is distributed on each corner is shown on page 11 of LG's product data book (i.e. page 13 of the PDF) linked below.
https://www.lgbusiness.es/wp-content/uploads/2019/...
Since this stand is only going to be secured to the ground (and not to a wall), my main concern is stability, i.e., supporting the weight and stress from the two condensers without bending, breaking, or tipping over, while enduring the fluctuating weather conditions.
Any thoughts or advice would be greatly appreciated.