Error generating *.fo6 files; analysis failure
Error generating *.fo6 files; analysis failure
Good day all,
I am a student currently using "Patran 2019 feature pack 1 (student edition)" and Nastran.
I am fairly new to MSC Patran/Nastran, so I followed this youtube tutorial on how to install it:
https://youtu.be/ARe5R6eR0VM?list=PLI39KM_btemwwh_...
In the video, he also does a patch test to see if the software is working as expected. After analysing my model, the command window (Nastran) gave me an error message of "The system cannot find the file specified".
See screenshot below: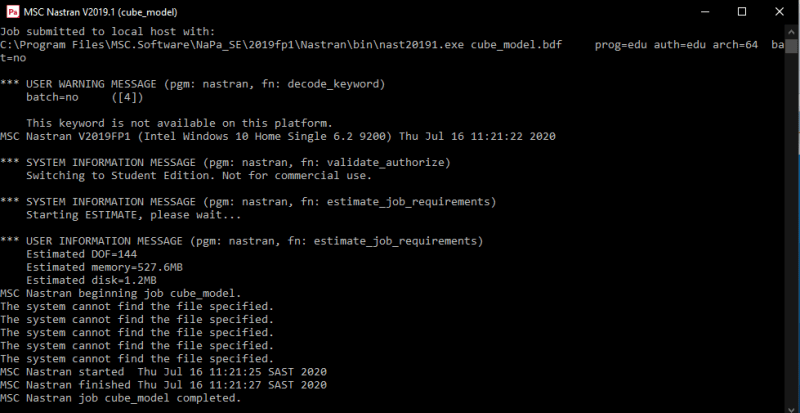 After reading forums in an attempt to solve this problem, I saw that several users refer to checking the *.fo6 files. To my understanding, these files are generated by Nastran. When looking in the folder where my model was created, I saw no *.fo6 files. The only files available to me are:
*.bdf
*.db
*.db.jou
*.log
*.log.1
*.ini
Since Patran couldn't contact the solver, I tried to directly run the &.bdf file in Nastran. This is where I also received several errors relating to missing files such as
SCAkernel_22.dll
fatlibr.dll
SCAkernelUtil_22_10
dtlibr.dll
I then thought that I merely didn't correctly install the program, so I uninstalled and reinstalled Patran/Nastran Student Edition.
This did not solve the problem
Here are my files:
BDF:
https://files.engineering.com/getfile.aspx?folder=...
DB:
https://files.engineering.com/getfile.aspx?folder=...
Thank you for helping!
Kind regards,
John