Buffer and Main seal Leaks
Buffer and Main seal Leaks
Hi,
I have a suspension cylinder (from a mining truck) that has a buffer seal, main seal and wiper seal. See below image (in real life this is orientated vertically). The cylinder will be subjected to pressure spikes due to the load the truck carries, ground roughness, cornering etc.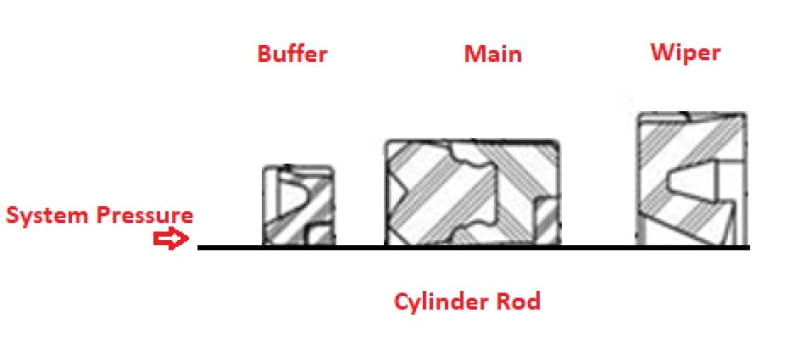 I have observed:
(1) No damage to the buffer seal, I have cut the seal to observe the cross section and there is no damage or deformation;
(2) Main seal has no damage; and
(3) Wiper seal has blow out from the groove
The key aspect to the observation is no damage to the buffer or main seal, but the cylinder is leaking.
I have the following questions:
(1) To blow out the wiper seal, this will require high pressure fluid? If so then does this mean that the buffer seal has become ineffective?
(2) In the event of a pressure spike, how can the fluid bypass the buffer seal without damaging it?
(3) Is the blow out due to low pressure oil that gets past the buffer seal and creates a pressure trap that eventually passes the main seal and then blows out the wiper?
Thanks