Shear studs design with FEM (How to do it in a right way?)
Shear studs design with FEM (How to do it in a right way?)
Hello. Our last project - 4-span continuous overpass with composite section (two box-shaped main girders and monolitic RC slab). My job was check ULS and SLS for main girders and design shear studs map. Somehow I've managed to do this, but now I have several questions about this stuff.
I'll explain my way of thoughts, hope you help me with critics and advices. How it should be done? Was I right in my suggestions? And so on.
Design process for shear studs consists from 3 steps:
1. Find diagram of Shear flow (between steel and concrete parts)
2. Find limit force on one stud
3. Divide beam on short segments, integrate shear flow diagram on segment - find shear force for segment, divide it on limit force
and get the number of struts for segment - countinue...
My main question is -
how we should do step #1 in right way?
Here is the problem. We have 2 formula for shear flow:
1) S_flow = (V * S_moment)/I_moment
S_fl - shear flow
V - shear force in beam
S_moment - first moment (static)
I_moment - second moment
2) S_flow = (N_2 - N_1)/ L
S_fl - shear flow
N_2 = σ_c2 * A_c+σ_r2 * A_r - summary force in slab on right end of slab segment
N_1 = σ_c1 * A_c+σ_r1 * A_r - summary force in slab on left end of slab segment
L - length of segment
1) formula is pretty good, but we can use it only for section with elastic behaviour (we can't find influence of primary part of creep or shrinkage)
2) formula is more accurate, we can use it for all situations, but we have problems with live load
What is the problem? In FEM soft for Live load we can get envelope diagram (min and max force in every section). And here is the problem - if we take 2) formula with values from envelope diagram - we doesn't get maximum (minumum) value of S_flow, because we need to maximize abs value of (N_2-N_1), not N_2 or N_1 separately.
So we need use both formula, extract separately V - shear force for live load (and for any other envelope diagram) and N_force for the rest. Is it good practice? Or we can do something else? (
First question
)
One more thing about using formula 2). From FEM soft we can get values of internal forces for I-end, J-end of finite element (1/4, 2/3 and 3/4 of element length too, for some software). So - it is really easy - take N_2 value in J-end, N_1 value in I-end of element and divide (N_2-N_1) on element length (pretty easy make it in Excel). But in this project, I've found some difficulties. Our slab will pouring in stages: 1, 2, 3, 4 stages - pouring in the middle of each span, 5,6,7 - pouring in pier zones (zones of hogging/negative moment), to decrease tension stresses in slab. I'va modelled all stages - and in the end get this axial force diagram in slab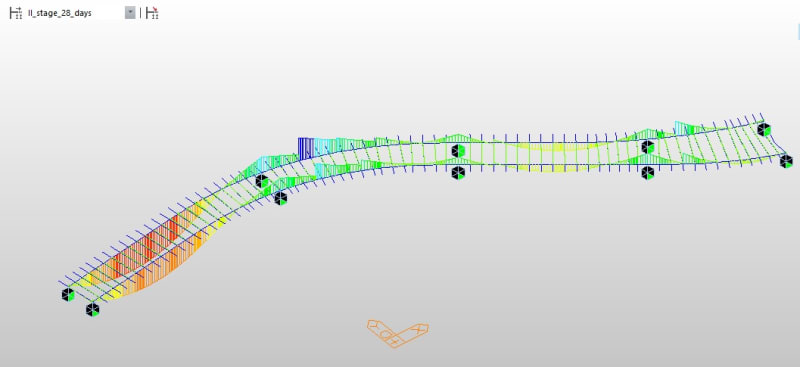 Look at gap near support zone - it appears right in the place between slab stages. I've thought it was error or something, checked it twice. But it's right thing. And problem is that this thing did't exist in real structure. I mean - in real structure - in this place during construction we have open end of slab, so there is no stresses(forces) there. But in FEM here we have changing of element properties and math is correct. In real life - stresses in this place should smoothly increase (due to smooth interraction between steel-slab connection). So - we have to change values in diagram, because it doesn't reflect real perfomance of structure, but how? Do you have such problem? Have you got any algorithm for extraction and processing data from FEM soft in this case? (
Second question
)
Thank you in advance.
I'm not really good at composite section bridges, thankfull for any reply.
P.S. For those who wants to know, how I've managed to find Shear flow diagram. I've found value of N in the middle of element - then - used formela 2). In that way I've got those spikes on graph, but so they was shifted from real position - bad thing, good thing - they was there.