ASTM A358 Product Analysis
ASTM A358 Product Analysis
Dear All,
I am confused the description about the Product Analysis in ASTM A358, the snapshot is below: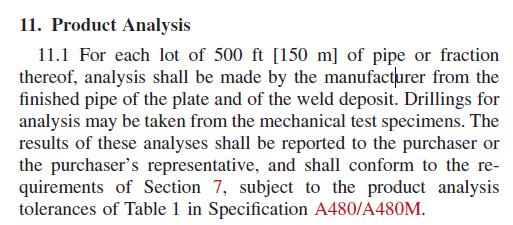 analysis shall be made by the manufacturer from the finished pipe of the plate and of the weld deposit.
Regarding this description, if only need to check the composition of the base material or both of base material and weld deposit?
As per the above snapshot, the result shall conform to the requirements of Section 7, which require the result need to comply with A240 or applicable AWS specification.
Acyually, we test the chemical analysis on the base material and weld deposit for S31254, result in that the result of weld deposit cannot meet the requirement of A240 or AWS applicable specification.