Repair of Corroded Beam Web
Repair of Corroded Beam Web
For an existing Highway Bridge we are reviewing, there is significant loss of section in the beam webs at the bearing location. I have attached some sample photos (these locations are not too bad, some others are worse).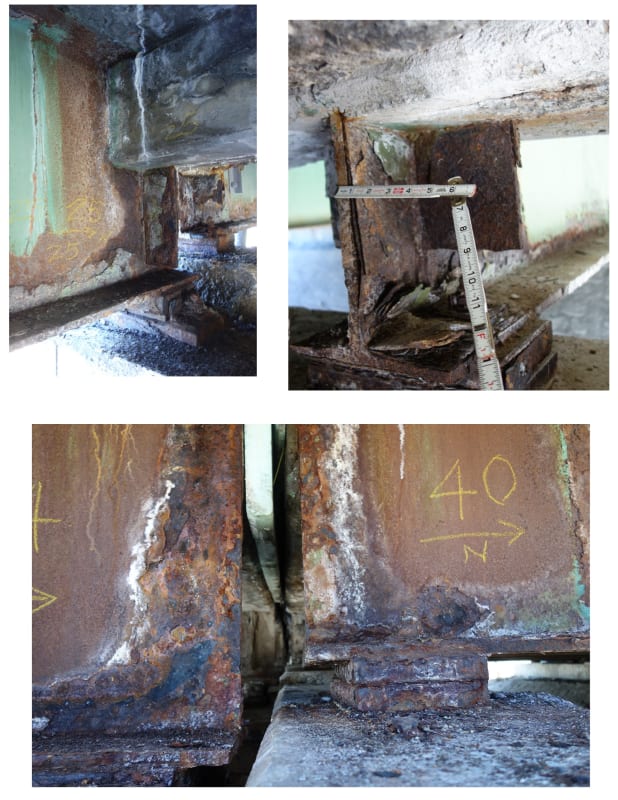 The current proposal is to reinforce the beam web by bolting on new plates on either side of the existing web and extending the plate (away from the bearing) till the full web thickness is available in the original beam.

The idea is to provide new plate thickness to match the original web thickness of the beam(ignoring the deteriorated web thickness)and hence maintain the shear capacity of the section.
For example:
Existing web thickness =0.625"
reduction due to chamfer =1.0625"
New Plate thickness required = (0.625"/2) + 1.0625" = 1.375". Hence provide 1.5" thick plate on either side of existing web.
I found similar details (Link)shared earlier in this forum and so I guess the philosophy makes sense. Also See attached file with details from one of the responses.
How should I go about evaluating/preparing calcs for the proposed repair? evaluate New plate thickness (match or thicker than existing web?), Connection bolts (check for shear only?), extent/length of plate required? Does AASHTO have any guidance?
What can I use to Seal the edges of the new plate to prevent moisture from getting between the new plates and the existing web
Would appreciate any guidance and feedback.
Thanks