3 laps joint for above ground tank as per API 650
3 laps joint for above ground tank as per API 650
Hi all, need your professional view on my case:
Our tank is fabricated following API 650 and now the concern is on 3 plate lap joint. We have 3 bottom plate that sit together and was welded with lap joint. Is this consider as 3 plate joint?.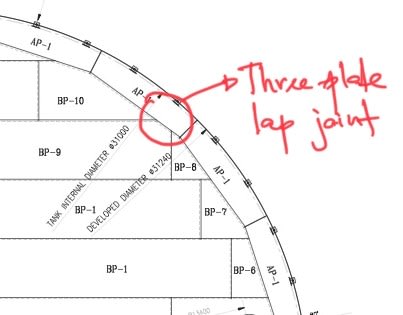 This is the clause on API 650 section 5.1.5.4.2
"5.1.5.4.2 Three-plate laps in tank bottoms shall be at least 300 mm (12 in.) from each other, from the tank shell, and from joints between annular plates and the bottom. A three-plate lap is created where three plates come together and all plates are joined to one another by lap welds. A location where a pair of bottom plates are lap-welded to each other and are lapped onto an annular plate constitutes a three-plate lap, but lapping a single bottom plate onto a buttwelded annular plate splice does not constitute a three-plate lap weld since the two annular plates are not joined together by a lap weld. These lap joint connections to the butt-weld annular plate are illustrated in Figure 5.3d."
thanks