Need some help with drainage issue, french drain stop working in matter of months
Need some help with drainage issue, french drain stop working in matter of months
We brought a house and noticed water going into garage. It was at the top of the brick wall so that's been addressed. Our house is in Georgia so you have red clay.
The brick wall on the inside is our garage. Water is going into the ground where the red lines are at and draining into garage on the opposite side at the bottom.
1. We did install new gutters
2. Grading is sloped away from the house
3. The red lines represent a new french drain I put in 6 months ago that was working and doesn't work anymore. It was constructed with solid pvc with holes at the bottom. Cover with wrap and back filled with 57 gravel. Then dirt back-fill over top and graded away from house.
4. That wall is made up of cmu and its from 1980 so i'm sure it absorbs water.
5. When it rains heavy, it leaks water into garage and there's red dirt with the water so I assume the clay has already clogged the drain.
6. If I open the cleanout, I'm able to see daylight at the other end of the whole 30 feet pipe so I assume clay has cover all the holes and preventing water from coming in to drain properly.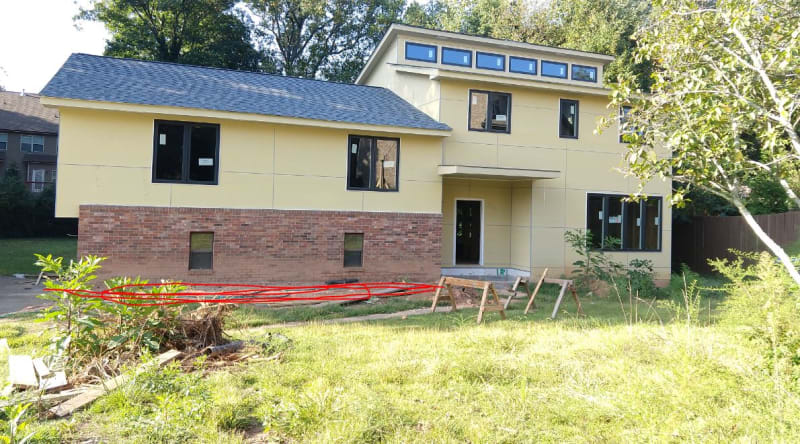 After researching, I'm debating a few options and would like some professional opinion.
1. Least favorite and costly option: dig everything back up and toss the gravel. Waterproof concrete block wall, dimple board, drain pvc pipe, backfill with concrete sand based on my research on here.
2. Dig and create a swale slopping to the left and drain to backyard driveway. So this means a small mound trench, cover with sand and possibly stones for decorations. Plant and landscape on both sides.
The issue is I'm not sure how wide to go and how it would affect curb appeal.
3. Last option is to dig maybe 12 in trench, lay pvc pipe with holes on bottom, backfill with sand. Cover with some dirt and landscape normally.
4. Non-engineer solution and hacky option: Find a below grade plastic membrane, dig up 6-12 inches of all the dirt, lay this whole membrane across and span the whole wall on the ground, slope it away from house. Backfill with dirt and landscape.