Newbie: Robot steering bearing arrangement
Newbie: Robot steering bearing arrangement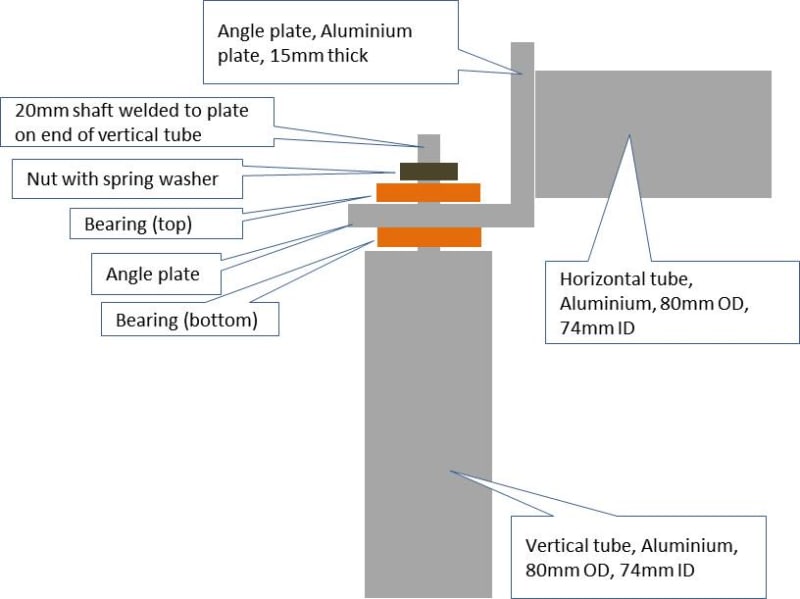 Its a simple image but it shows the proposed arrangement for a 4 wheel agricultural robot. We want a simple design and thought 2 'thrust' type bearings 'squeezed' either side of a plate would be OK to give a study leg and the ability to steer (90-degree worm motor connected to the shaft at the top). Weight per wheel is around 40Kg, the rotation speed is 40 rpm and for steering, the terrain is soil, horizontal tube length to the centre of the robot is 1.2m and the height of the vertical tube is 350mm. Wheels are 400mm diameter and 150mm width. Vehicle speed is up to 10Km/hr.
This is a prototype and we just need to get it moving to brainstorm further ideas, prove concepts and raise funding.
Could anyone kindly suggest if the arrangement is OK for this purpose and what type of bearing (20mm ID on 20mm shaft, 40mmOD) would be appropriate?
Any help would be very gratefully received.
Thanks in advance.
Colin (out of date engineer)