Shell to Solid Coupling-Overconstraint-unconverged residual Forces in connecting nodes
Shell to Solid Coupling-Overconstraint-unconverged residual Forces in connecting nodes
I am facing problem of non-convergence in my model particularly in shell to solid coupling nodes. The connection is of I beam(no of) cross section(s) welded to flat plate((s)(above and below I section as column)). I beam is shell and plate is solid. Since there are lot of other components and hence contacts on both sides of the flat plate I have modeled it as solid. Simple Representation of model is as shown in the image.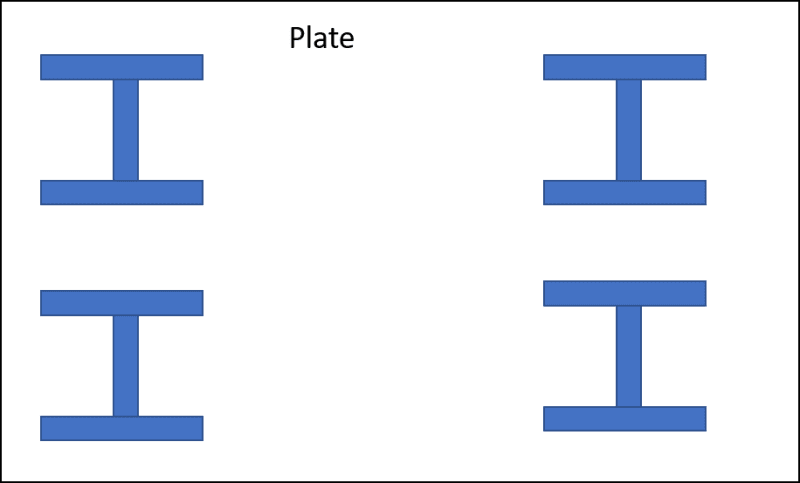 First I kept the solid and shell region same in a part so that i do not need to create coupling separately. But then I got the over constraint/pivot warnings and analysis stopped after 5 cutbacks in first increment. Some lines of message file-
OVERCONSTRAINT CHECKS:
An overconstraint was detected at one of the Lagrange multipliers associated
with element 119084 INSTANCE REACTION_PLATE_R04-1. There are multiple constraints applied directly or chained
constraints that are applied indirectly to this element.
***WARNING: IDCOUP3U ELEMENT 119176 INSTANCE REACTION_PLATE_R04-1 IS
OVERCONSTRAINED
***WARNING: IDCOUP3U ELEMENT 51707 INSTANCE LOWERFRAME-1 IS OVERCONSTRAINED
Since I have tight deadline I separated both shell region and solid region as different parts and given the shell to solid coupling. Here all warnings gone but then the convergence has become very slow and then in some increments the nodes at corner of coupling has residual force which is greater than time avg force and is not reducing. The SDI's are converged but only the nodes at coupling are creating problem in equilibrium iterations and hence solution is not converging after trying some iterations. Any idea on the possible reasons?