Vertical Distribution of Seismic Demand for Multi-Story Buildings w/Flexible Diaphragms & Setbac
Vertical Distribution of Seismic Demand for Multi-Story Buildings w/Flexible Diaphragms & Setbac
This is going to be difficult to describe so I'll have to lean heavily on the sketch below which is also attached as a PDF. Nobody should even think of responding to this unless they've spend some time digesting the sketch. In summary, for flexible diaphragm analysis:
1) I feel that there are instances in which normal practice will significantly underestimate demand. See SW3 below.
2) I feel that seismic demand should be vertically distributed for each line of lateral resistance independently, based on tributary seismic mass, rather than looking a the entire building as a whole.
Thoughts? I very much want to do as I've shown below but I fear that it might catch unwanted AHJ review attention (California).
Yeah, a rigid diaphragm analysis will pick up some of what worries me here but that's not the crux of the question.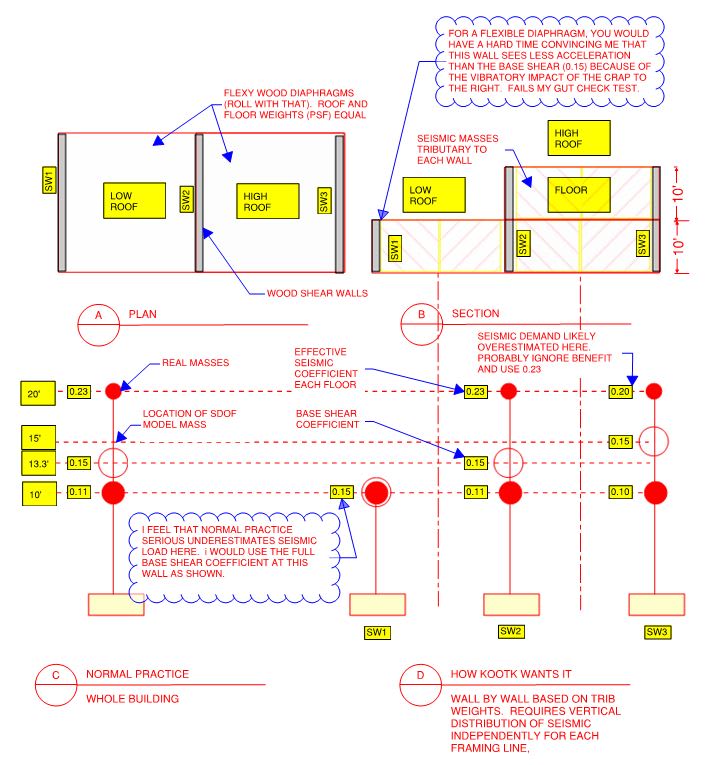 HELP! I'd like your help with a thread that I was forced to move to the business issues section where it will surely be seen by next to nobody that matters to me: http://www.eng-tips.com/viewthread.cfm?qid=456235