Stubborn Porosity Problem with Pipe End Face Weld Build-up
Stubborn Porosity Problem with Pipe End Face Weld Build-up
The sketch below shows the configuration that is giving us porosity problems. All the usual suspects have been investigated and ruled out. GTAW welding is done orbitally, using argon shield gas.
I suspect the problem results from the absence of a shielding gas 'backstop' that the base metal provides in typical welding configurations.
I would appreciate any suggestions for cup size, gas lenses, tungsten stick-out, or some kind of barrier that could help contain the argon and prevent air entrainment.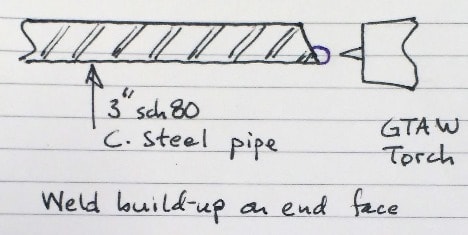 "Everyone is entitled to their own opinions, but they are not entitled to their own facts."