Mutual Thermal Resistances between Pipe Layers
Mutual Thermal Resistances between Pipe Layers
Ref:
Palsson, Halldor | Analysis of Numerical Methods for Simulating Temperature Dynamics in District Heating Pipes - please check pg. 62 at
LINK (CLICK!)
INTRO:
In this reference, the mutual thermal resistances between layers as
water-insulation
,
ground-surrounding
, and
insulation-ground
are defined for a buried pre-insulated pipe, figure and formulations given below.
QUESTION:
I want to improve the model given in this reference by studying the layers as water, steel, insulation, and ground so I need to obtain the mutual thermal resistances between water-steel, steel-insulation, insulation-ground, and ground-surrounding. I couldn't find a reference describing how to find the thermal resistances between layers of a cylinder (e.g. thermal resistance between pipe wall and insulation and others). Can any of you help me either by giving formulations or by guiding me to a reference?
FIGURE: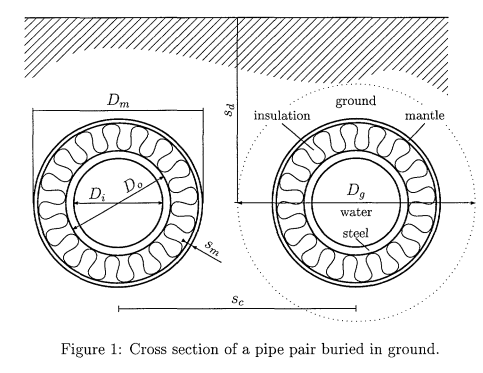 FORMULATIONS:

DETAILS:

"In life, the truest guide is science" – Mustafa Kemal Atatürk