SAE J429 Grade 5 Hardware
SAE J429 Grade 5 Hardware
Hello All,
I was looking at our parts here at work a few months ago and realized that there might've been a somewhat significant, overlooked detail during the early years of the company. We use Grade 5 screws with suspension parts. These suspension parts are sway bar end-links (see image). I know Grade 5 is okay in the right location on a vehicle's suspension system, but I am hesitant to say it's applicable for the primary hardware to be used with sway bar end-links.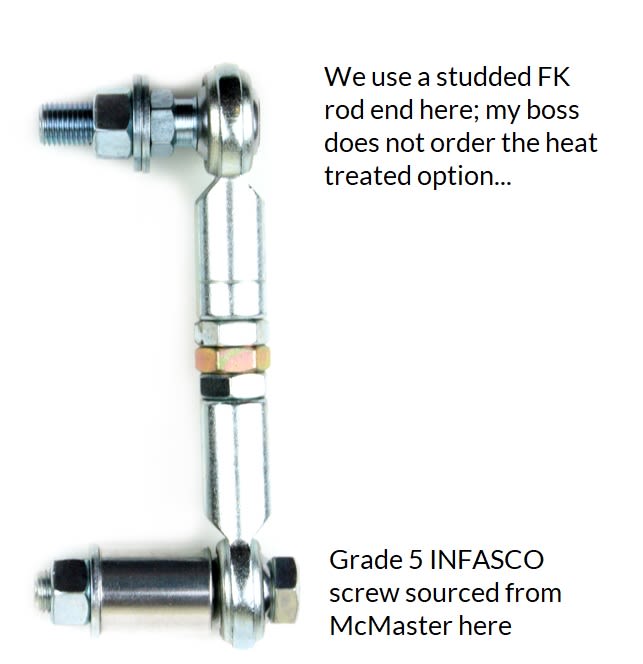 Now, the type of person that I am means that I am looking at fastener designations on almost any product assembly that will show its goodies (cars, rockets, machinery, etc.); in simpler terms I am filing away design ideas based on their real world applications. I have always seen Grade 8 supplied with the parts kits that my dad and I would buy for our cars, but most people are not actually thinking about that stuff and just throw in the hardware that a person or website told them was the strongest. I know that most of the screws on my VW's suspension system are ISO 898 10.9+ for example, but my primary end-link hardware is ISO 12.9 I believe.
I've put in an hour or so trying to look for the data that I want, and I may have to buy SAE J429 or J1199, and I'm afraid that still may not answer it. All I was finding was very dumb info, like very dumb. Does anyone know if the SAE PDFs have true application data? Conversely, if you could shed some light of the efficacy of SAE Grade 5 vs Grade 8 for this application, then that would be great!