Thermal battery for small scale domestic application
Thermal battery for small scale domestic application
Hi.
I was reading about different types of thermal battery implementations for small scale domestic use, and wanted to come up with a way to improve on them without adding too much complexity or danger. In the course of researching, I happened across
rocket mass heaters
, which gave me an idea. For the majority who I assume have never heard of these things, they are simple wood stoves designed such that a second insulated burn box after the primary burn box also combusts the flue gasses, which are then often routed through a large masonry mass (usually in the form of a bench). What comes out of the chimney after that point is CO2 and water vapor, at around 50 C (ostensibly; these are claims made on the internet, and I don't know that they have ever been studied formally).
A drawback to any radiant heat source is that it tends to be uncomfortably warm when you're next to it, and totally unnoticeable when you are in the next room.
Skipping to the idea, I thought that if the mass and combustion chambers were more insulated, and the mass made larger, it could heated to much higher levels, and that heat could be stored for an extended period of time. If it were underground, and surrounded by insulation, probably months. The temperature of the flue gasses can exceed 1000 C fairly easily, and I calculated that a 3 cubic meter mass of concrete heated to 500 C above ambient can hold almost 10 GJ, or nearly 10% of what an average household consumes in this area in a year. (I'm not sure how feasible it is to contain it, even underground away form the house, at those temps.)
For those who don't have an abundant supply of woody biomass, excess electricity from solar energy can also be used to heat the mass. To make it more practical, I want to allow for hot water to be a possible input, but I don't want to use compressors, so I imagine a mass of water would need to be inside the battery (not for drinking). Also, to prevent the hot stone from heating this water to a boil, a third chamber with glycol could sit in between them. This chamber could double as a hotter output, for the purposes of cooling the system at medium speed, and perhaps melting snow. Lastly, I thought it should have an emergency rapid cooling system.
I drew something on a napkin, but my experience is in writing software, so please don't hold it, or anything I've said thus far, against me: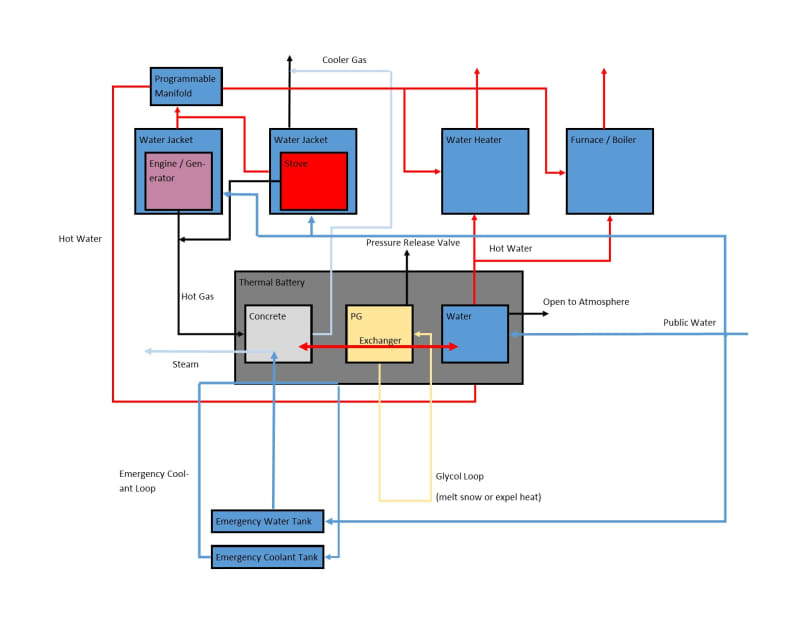 It's not intended to be comprehensive, e.g. I forgot to put an exhaust to atmosphere on the hypothetical generator, or show public water by default to the water heater. I just want to know if I'm on the right track, and that I'm not overlooking something that would make this dangerous or impractical generally. Assuming it's more or less OK, then I have much to learn, but if I could ask one question now: I don't know of any way to exchange the heat between the hot and medium chambers while being sure that the glycol would not boil, and would appreciate any suggestions as to that.
Thanks.