Trying to understand why a DC motor feels this way.
Trying to understand why a DC motor feels this way.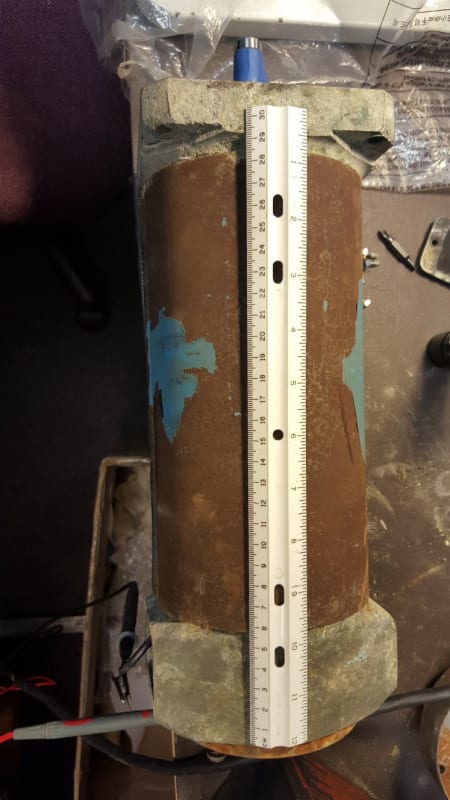 This motor is ill. It's 4 years old and lives in spraying coolant in a large CNC machining center grinding ceramics.. It's nasty location is because it runs a large rotary table on the deck.
It recently quit. I'm trying to understand why. It's 90VDC with only an armature as the stator has only permanent magnets. The brushes look fine, the commutator looks fine as I can't even see a ridge on it. The gaps in the commutator bars are deep so the bars don't look like they've worn down to the gap filler, probably an 1/8" at least.
Meggers infinite at 250V.
Measures about 15Ω at the two motor terminals.
I dragged out my HP 40V 50A supply and tried ponying it up. It turned about 90° and stopped at 35V 50A.
Now here's what's puzzling to me: If (unconnected) I try to turn the shaft it turns with perhaps a little more effort than I might expect but after going perhaps 180 degrees it will suddenly bang to a stop. It feels like it hits a brick wall or something. If you back it off and try again it might hit the stop again or it might not and might turn another random-seeming partial revolution then bang to another stop. There may be a few mini-stops in a full revolution too where it stops but then relents and passes thru the stop to somewhere random before it bangs to another hard stop. None of these stops may actually be random but I've not yet eked out any pattern.
Can anyone explain what might be causing this motion?
Keith Cress
kcress -
http://www.flaminsystems.com