Ideas about the noise source causing this.
Ideas about the noise source causing this.
I have a big Yaskawa drive controlling the spindle on a fairly large CNC Mori Seiki lathe.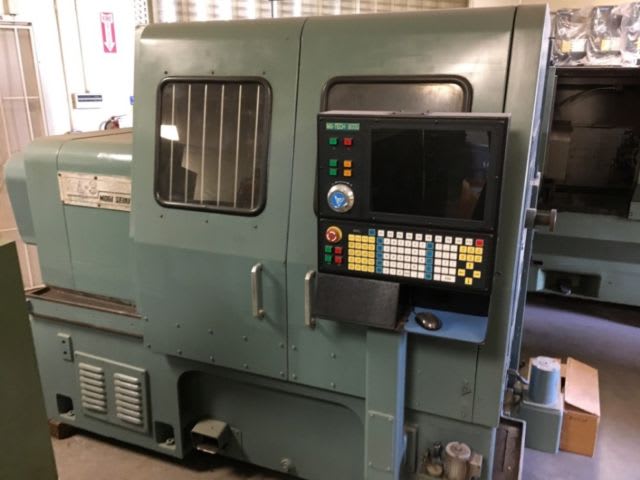 The spindle speed wanders all over the place. Set it to 1,000RPM and you can watch it roam down to 500 and up to 1,700rpm. Set it to 1,500rpm and watch it roam up to 3,500rpm and down to 1,000. Setting it to 2,000rpm you can watch in horror as it heads for 6,500rpm, pulling the plug as you think about a foot-in-diameter chuck spinning that fast. The changes are random and almost constant with several changes a second occurring.
The spindle speed is fed back to the drive via a resolver. The resolver is the classic three winding transformer with two secondary windings oriented 90° apart. A driving rotating primary coil is fed an 18kHz sine-wave by the drive's front end. The envelopes of the receiving secondaries are subsequently compared to provide an accurate realtime rotor position/speed.
Speed problem? So I head to the resolver and stick my scope on it and this is what I see on the driving coil.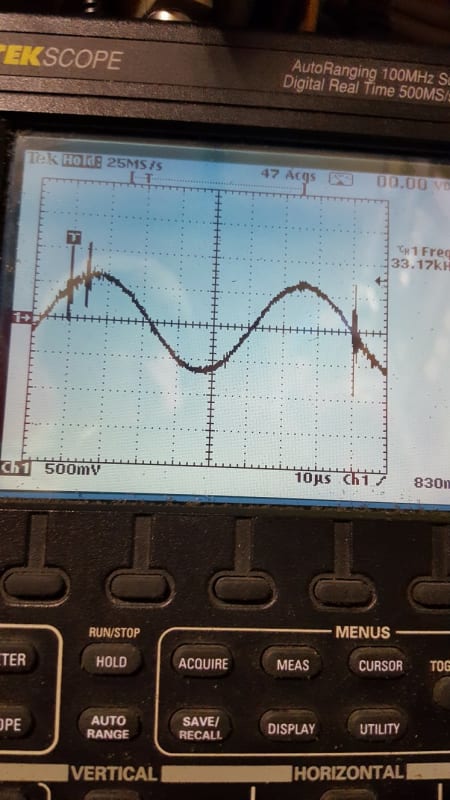 The spikes are pretty accurately reflected in the two secondary coil outputs. The motor hunting can be seen and felt to be associated with these interference spikes. My scope set in "tell me the frequency" measurement shows 18kHz with subsequent measurements showing up as a couple thousand Hertz and 130kHz etc etc so it's not a surprise the drive is misreading this too and sending the spindle off into the weeds. The drive's PIDs these wrong speeds and before getting anywhere diverts off to the latest wrong speed, this is happening several times a second.
I'm trying to figure out if these spikes are a failing part in the drive's resolver excitation circuitry, perhaps only a filter component failure and motor drive power is appearing on the encoder drive? Or, maybe the motor has lost ground continuity and high freq current is riding back on the resolver wiring. Seems odd it would be bigger on the resolver drive channel than the receive channels if that was it.
Got any ideas what causes this particular type of interference?
Keith Cress
kcress - http://www.flaminsystems.com