Strange results
Strange results
Hi everyone,
I've a problem on my model.
I installed a new ansys version (2019 R1) in a new PC.
I insert a plastic material data and start to do a calculation:
Young Modulus: 17000 MPa
Poisson ratio: 0.35
mm/mm MPa
0 11
0,00129 60
0,00340 95
0,00888 140,5
0,01399 158,3
0,01798 169,1
0,0240 171,5
0,02883 171,9
0,02954 172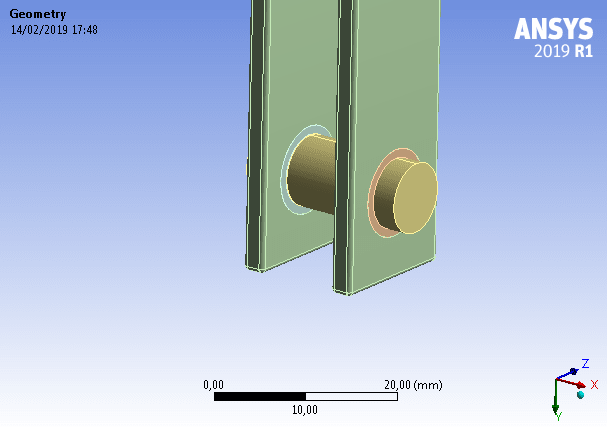 This is what i'm doing and i have a metal pin inserted in two metal bushings comolded with structure in plastic material. (With metal i mean "Structural steel" of Ansys)
Contacts are:
- pin and bushes FRICTIONAL
- bushes and hole BONDED
I applied a positive Load of 2kN on Y on the pin and i see a strange behaviour: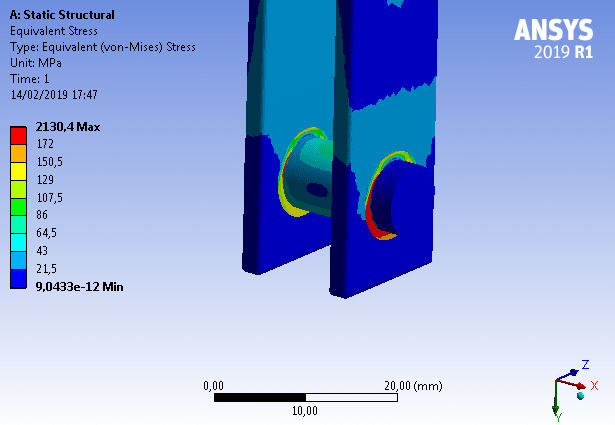 According to you what's wrong in the model? According to me i need to have a compression tension below the bushes, and lower tension on bushes.
Thank you!