Smath solve/doesn't solve issue
Smath solve/doesn't solve issue
Hi,
I have an issue with Smath that I can't figure out.
For the most part, I have been able to learn Smath on my own, despite the absence of any user manual, and only a few brief tutorials written by users themselves. I am relying very heavily on my long experience with Mathcad to pick this up - but it's a double-edged sword because Smath doesn't do all that Mathcad did.
One thing I would like is a list of error messages and their meaning. I can't find any references to this error expression on the SmathStudio website/forum. I could probably solve this for myself if I could find one. I've made a request on the SMath forum.
The file linked below is part of a very long analysis that's suddenly gone bad on me - no idea why.
Only the parts before the strange error are included. The rest is very very long.
I've also included a screen-capture of the offending expression: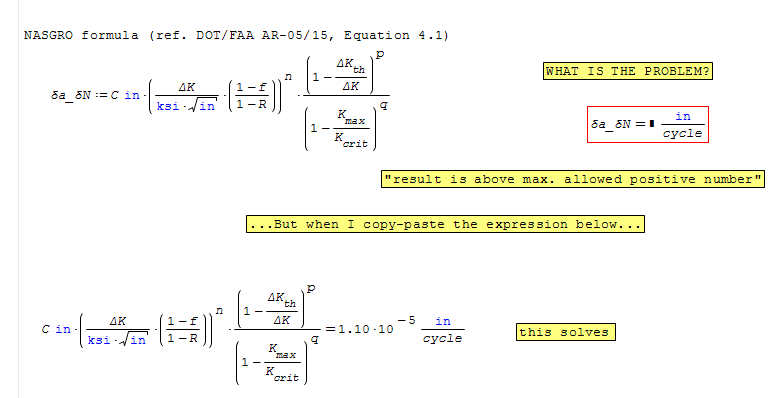 For those who need to ask:
1) The value is C=2.44E-8, Dk=15.6, f=0.39, R=0, DKth=2.9, Kmax=15.6, Kcrit=49.1, n=2.601, p=0.5, q=1
2) the units in the formula are a mess, but not because I want to write formulas that way; this has to conform to a provided format,
Any suggestions to get the expression to solve, AND assign the result to the da_dN variable?
No one believes the theory except the one who developed it. Everyone believes the experiment except the one who ran it.
STF