Construction Equipment trailer brakes
Construction Equipment trailer brakes
Working on some construction equipment. Basically, a 6 wheel drive dump truck with the bed taken off, and a giant gooseneck trailer hooked to it. Still in setup stages.
The truck has hydraulic brakes that operate on 0 to 1300 psi.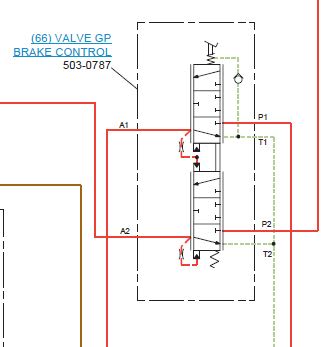 The image is of the trucks service brake valve. A1 and A2 are two separate brake ports, for brakes on two separate axles. A1 and A2 have a maximum output setting of 1300 psi, with the brake fully applied. P1 and P2 are from the same pump source. If curiosity needs to know why there is P1 and P2 from one source, the source gets split by an inverse shuttle valve to keep the circuits separate(safety?).
The trailer has hydraulic brakes that require 1800 psi.
Assume that there is another, separate, source of oil flow on the truck which will provide 1800 psi when activated.
Is there any sort of valve that would allow me to use the 0 to 1300 psi from the trucks service brakes, to operate a pilot valve to control the trailers brake in proportion @ 0 to 1800psi? A normal pilot operated spool valve will not work- there would be no variability in the 1800 psi circuit, the brakes are a single acting, spring released circuit. The valve also needs to drain the brake work port to the trailer when it is not activated.
In effect, what I need is the same hydraulic function of the truck's service brake valve, but using 0-1300psi pilot oil instead of a footpedal. Doable?
Think of this like a hydraulic version of a pickup truck electric brake controller..
Thanks