Oxy-Acetylene brazing of 270 ksi 7-wire steel strand in butt joint
Oxy-Acetylene brazing of 270 ksi 7-wire steel strand in butt joint
I have to butt-join two different diameter 7-wire high-tensile steel strands (270 ksi tensile) to each other. The smaller diameter strand - 3/8" dia - is a 'fishing' strand to assist installing the larger - 1/2" dia - to be installed into a 1/2" dia greased-and-sheathed HDPE conduit embedded in concrete (aka: repair of unbonded post-tensioning tendons).
I have done this many times - works well about 95% of the time - with the 5% failure typically due to me rushing on the prep of the strand and not getting good bond. There are no life-safety issues with this short-term temporary application, but it is a pain to have to fish out the strands and re-do the braze, and start the install application again.
I have a project with multiple 300 foot long strands to be repaired and 'kinda-don't-want-to' have the braze joint fail part way into the install.
What I do is un-ravel the outer wires of the 1/2" strand to expose the king (center) wire, and cut it back about 2" from the outer wires. On the 3/8" strand I un-ravel the outer wires and cut them back 2" from the king wire. Acetone clean all wires, then insert the 3/8" male king wire into the 1/2" king wire female, butt-end all the outer wires, then braze the joint. See following graphic: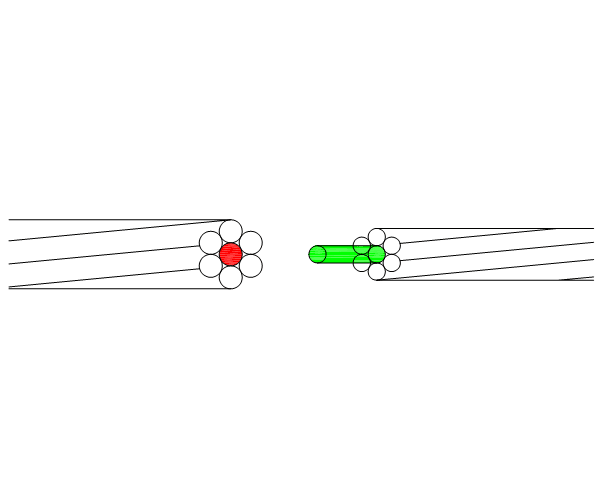 I figure maybe I can get 50 ksi tensile capacity from a good braze, and if only assuming butt-joint capacity of the outer wires of the 3/8" strand I can maybe 4 kips of tensile capacity.
Is there a better way to make this joint stronger to reduce my 5% failure rate?
Worth much additional capacity in increasing the male-female insert length greater than 2"? The interstice space of the two varying diameter king wires may not be ideal for brazing - I am not really sure.
I may well do a few sample brazing tests and load test them in a center-hole ram to see how they compare.