Help on a darlington
Help on a darlington
Despite the risk of being cast back to school, I'll ask help on this dimmer circuit for a LED strip
I have:
- MJE13003 -
http://www.onsemi.com/pub/Collateral/MJE13003-D.PD...
- 2N3904 -
https://www.onsemi.com/pub/Collateral/2N3903-D.PDF
- 1k and 10k pots available
- Many resistors
This MJE, by my understanding, has a low gain, so I need another one to drive it (darlington).
2N3904 was the chosen, since I have a sack of a hundred
(94 now that I toasted six of them)
The LED strip, on a 12V supply, consumes 700mA. When in series with the saturated* MJE13003, the current drops to 400mA. Maybe this is expected, since the transistor has a drop of ~0.7V
*Base shorted to the 12V
But the actual problem I seek help on is on the 2N3904: it's at less than half of it's supported current (79mA Vs. 200mA), smoking almost instantaneously, and no heatsink is possible (TO92).
Here's what I have: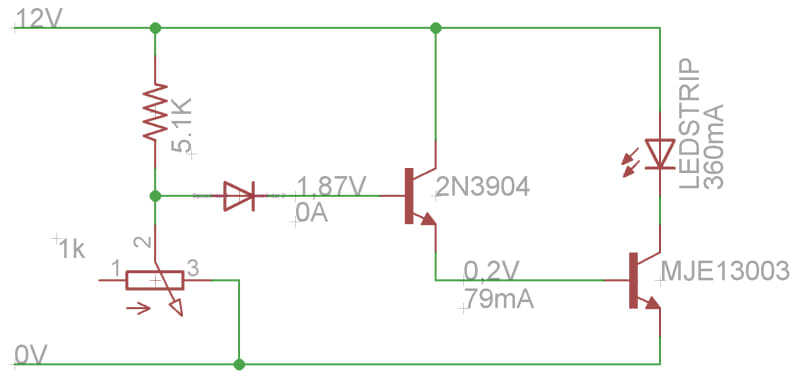 Important
: this 1.87V after the diode is while floating the collector of the 2N3904. If I connect it to the 12V, the voltage after the diode goes to 5.3V, and zero current
I tried sticking the collector of the 2N3904 and the resistors AFTER the LED strip, and it doesn't heat up. But even shortening the base in this scenario doesn't drive enough current to the MJE (300mA or less)