Double block and bleed - how did this become standard?
Double block and bleed - how did this become standard?
A bit of along post, but hope you read through.
I'm in the process of critically looking at the isolation requirements for a Crude Oil pipeline system running in a class 600 and class 900 system. The pipework is relatively open and uncongested and fairly simple layout.
I remember when I first started in the pipeline industry that single valves ( either ball valves or gate valves) and possibly a blind flange, was all that you had between you and the pressurised fluid ( in my case refined products).
Nowadays in various project and Company isolation philosophies / standards you find requirements for DBB, generally two valves in series (not double seated valves), for all isolations where you have a potential for operating /working against pressurized fluids and where the pressure class where this starts can be as low as class 300 and definitely class 600.
My understanding is that this requirement crept onshore from offshore facilities, especially after a number of fires and explosions which affected those facilities in the past. However I would welcome any history lesson on how and where this practice became the "norm".
I can't find anything in particular in ASME 31.3, 31.4 or PCC-1, but I'm open to pointers on this subject ( or searching for a different word than "isolation") in any other published code or standard, not Company standards. Before you ask, the project I'm working on doesn't have any particular company or legislative requirements covering this issue (not in Europe or US)so it's up to us to create one and get it reviewed and approved. I have seen and am working through the rather good guide the UK HSE produce called HSG 253 safe isolation of plant and equipment.
What I would like to do / thinking about is to generally remove the second valve requirement and replace it with blank flange with a tapped bleed valve like the one shown below for isolations which end in a blank flange. This complies with Cat I positive isolation examples in HSG253 if I add a pressure monitor. The question for isolation where you remove the blank flange and or use a single valve is that it requires a risk assessment to show it is acceptable. However it is not clear what you need to consider to get to that point.
There are some good pointers in HSG 253 on what constitutes "short term" isolation - basically max one shift, monitor, don't leave unattended etc where you can then look at single valve isolations for doing short term work, but need to assess the risk.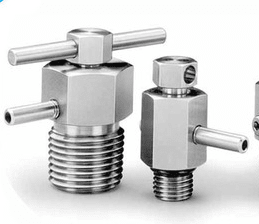 So when coming to open the isolation, the bleed valve does exactly the same job as the bleed in a DBB system - i.e. check for leakage passed the primary valve. I've never been very clear on what happens in a DBB system if you do find leakage? Do you just drain away the hopefully small leakage, leave it open and then work against the second valve? Or what?
The risk here might increase a little, but for the fluid I have (not gaseous) I don't think this is sufficient to have to put a whole bunch of extra class 900 valves all over the place.
Most of the valves we're looking at would probably be operated only a few times so should be virtually new when exposed to the operation.
Any questions, comments, pointers, experience, things you've done recently gratefully accepted.
If I'm pushing the boundaries too far then please let me know your thoughts also - I recognise that times move on and what was acceptable 25 years ago may not be now.
Thanks
LI
Remember - More details = better answers
Also: If you get a response it's polite to respond to it.