ASME BPVC Section VIII Div.1 nozzle attachment
ASME BPVC Section VIII Div.1 nozzle attachment
Good morning everyone,
I have two questions. The first is about the ASME BPVC Section VIII Div. 1 code, and the second is about general engineering practice.
First question: In the ASME code a nozzle attached with an internal and external (double-sided) fillet weld, as shown in figure UG-40 (i) has a finished diameter (FD) equal to the inside diameter of the nozzle. This seems a little off to me, I know all full penetration-attached nozzles has a FD equal to the inside of the nozzle, and a single-sided fillet welded nozzle has a FD that is the outside of the nozzle. To me it seems a little odd that a double-sided fillet weld has a FD more like a full penetration weld instead of a single-sided fillet weld. Could anyone offer some explanation to this?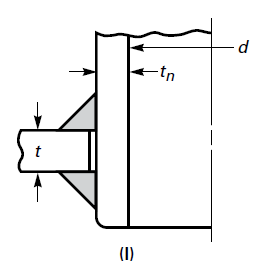 Second question: (This question is more to appease my curious mind) If you need to put a weep hold in a reinforcement plate [to let out moisture and air as the vessel heats up and cools down] why don't you need a weep hole when you are attaching a nozzle with a double-sided fillet weld? Theoretically there's a small space for air that gets trapped when you finish welding much like the reinforcement place.
Regards,
Tyler