Lloyd's Code for Lifting Appliances in a Marine Environment
Lloyd's Code for Lifting Appliances in a Marine Environment
Hello. I would like your help with respect to :
Chapter 4 section 2 Paragraph 2.24.5 of the LATE.
There in case of loading of a flange which is connected to a main structure through a circularly patterned bolted joint states: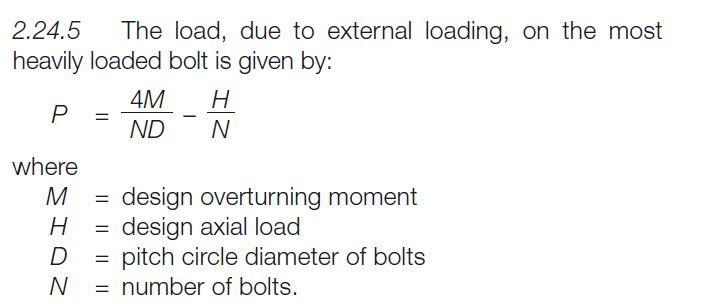 Can someone explain why it subtracts the load due to tension of each bold from the load due to bending moment?
In my opinion it (the term H/N) should be added for the most heavily loaded bolt!
I am trying to figure out the justification behind the formula as my organisation needs to design by that code.
By subtracting the tensile stress due to tension don't you underestimate the possible maximum load for the most heavily loaded bolt?
Thanks in advance