Derived median line or surface straightness
Derived median line or surface straightness
Is the callout shown DML or surface straightness?
1.) DML becauase it is associated with the size dimension
2.) Surface straightness because does not have the Ø symbol.
3.) DML because is bigger than the size tolerance.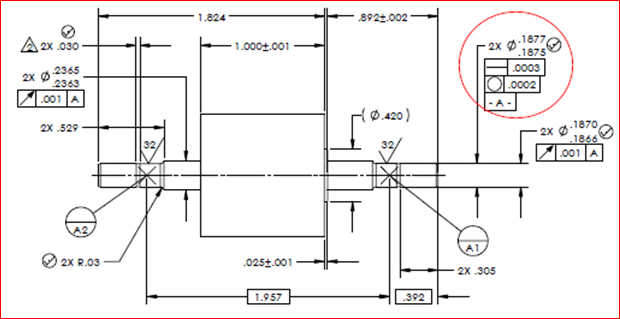 "Expert" solution was:
According to Rule #1 in the Y14.5 standard on Dimensioning and Tolerancing the size tolerance controls the surface form on all rigid parts. Since the size tolerance is a diameter of .0002, it already controls cylindricity (roundness, straightness and taper) to within a diameter of .0002. This is less than the straightness control of .0003 and the roundness control which is .0002 per side or a diameter of .0004. So, both the straightness and roundness geometric controls should be removed.
Do you agree with the advice?
Why shown callout cannot be considered DML ?