Specifying Regions in Coupled Fluid-Structural System
Specifying Regions in Coupled Fluid-Structural System
I'm trying to set up a fairly simple coupled fluid-structural system to learn how it works. My system simply has a flat plate with wind blowing on its face. The plate has a fixed displacement constraint on a small area in its center. Currently, as far as I can tell, everything is set up properly on both the fluid and structural sides. However, when I look at the system coupling setup, there are two things that are concerning to me.
First, there is a question mark beside the "Analysis Settings" with an error message saying "Not all participants and system coupling system have the same analysis type." I am trying to couple a transient structural system to a fluid flow (CFX) system. Is this not possible?
Second, in the regions folder under the fluid flow (CFX) participant, the only region listed is the region containing the side walls of the air volume. It seems like this should be the interface between the flat plate and the air. As it is, the only option for data transfer between the two systems is between these walls and the fluid solid interface defined in the transient structural system. Ultimately, my question is how do I change the region that is sent to the system coupling?
Here is the project schematic I have right now:

Here is the system coupling outline: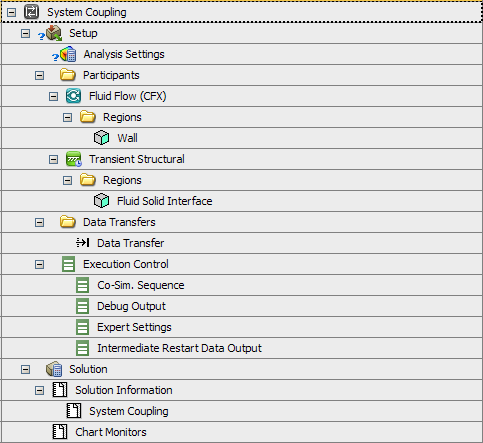 I'm sure there's probably some stupid mistake that I'm making. I would greatly appreciate it if someone could tell me what it is.
I tried attaching the file to this post, but apparently it's too large (26.3 MB) for the file sharing system. For now, I've uploaded it to
here
, but that expires after 2 weeks. If someone knows a better file sharing system that I can access from here at work (most of the common ones are blocked), I'd be happy to upload the file to there.