ACI 318 Shear Provisions and Modified Compression Field Theory
ACI 318 Shear Provisions and Modified Compression Field Theory
Reading up on the failure of the
Sleipner A
drilling platform, much of the blame is not-so-subtley placed on the unconservativeness of the ACI 318-95 shear provisions - specifically, the ones that provide shear capacity for members under compression.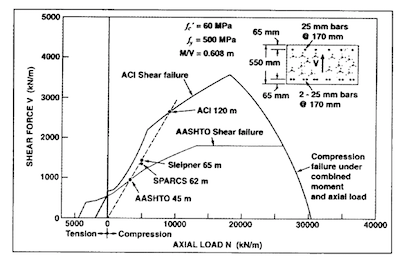 These provisions (eq. 11-6 in every version of ACI up to 318-11) are still the same today - unchanged since ACI 318-71, which is itself based on an ASCE committee report from 1962 - over 50 years old at this point.
We know these provisions are unconservative, and we know a more accurate method (modified compression field theory, used in the AASHTO code for over 20 years). Anyone have any insight as to why they haven't been updated? I'm sort of perplexed as to how a high profile, 100 million plus dollar failure didn't induce any.
Brian C Potter, PE
Simple Supports - Back at it again with the engineering blog.