Statics or FEA required? Frame Drawing in Post
Statics or FEA required? Frame Drawing in Post
I am trying to calculate the brace force of the attached frame. I can do it easily in RISA, but I want to incorporate it into a MathCAD calculation because it will be easier and faster to produce a calculation set for future projects. I've been racking my brain to figure it out because I know the stiffness of each element affects the load that the brace sees. So, I tried to simplify the properties of the members in the attached. The brace has the weakest moment of inertia and and cross-sectional area, I and A respectively. I then made the other members have arbitrary factors of I and A. The column is fixed to the foundation. The beam and braces have pinned ends. I showed the force outside the one column, but it is actually at the center of the beam (diaphragm load) so it loads each brace equally.
So am I stuck using RISA for each frame that comes up or can someone provide a (maybe not simple, but shortish) method of calculating by hand?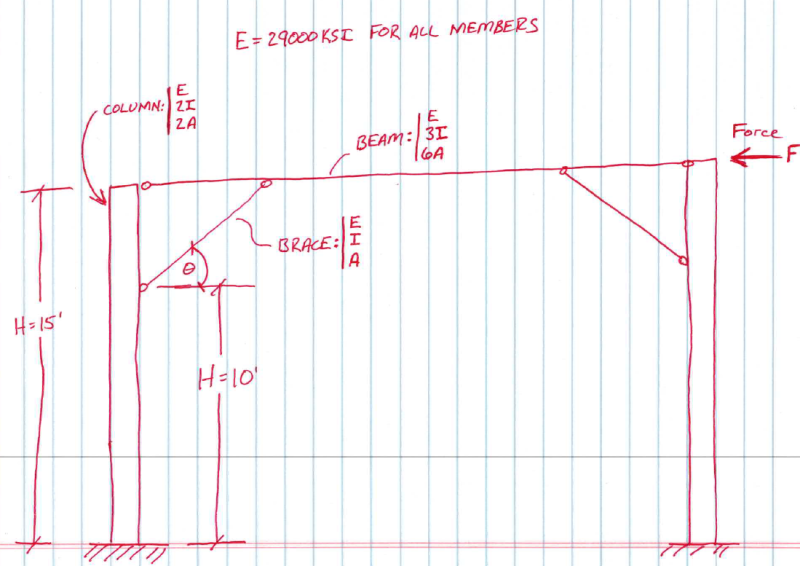 On a related note, if the base of the column is pinned, I did an "equivalent" analysis of the column as a beam with pinned supports at the beam and brace and a point load (equal to 1/2 the force) at the foundation which is assumed the free end. This works with the assumption that the translation at the brace and beam are equal. This is not exactly true, but because of the stiffness of the members and close proximity of the two points, ends up pretty close. The pinned base requires a stiffer column to keep the drift down, hence my attempt at the above.
Juston Fluckey, SE, PE, AWS CWI
Engineering Consultant